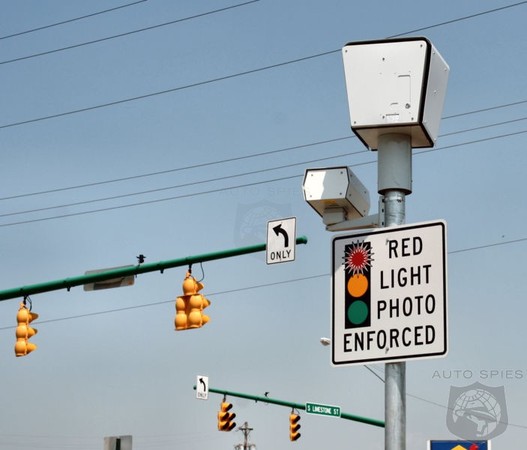 My mom, an 80-year old true Texas firecracker, recently received an unexpected gift in the mail. Upon opening the mysterious envelope, she was caught by surprise at the candid photo of herself. A head shot from behind her steering wheel. As she ran a red light. Courtesy of the City of Santa Clarita.
This city-sponsored photo shoot would cost her somewhere in the vicinity of $500. Mom is not one to accept difficulties with equanimity. "They won't get a red cent out of me. I haven't had a ticket in 25 years and I'm sure as hell not going to pay this one," she declared.
I smiled. Last year I, too, received an unsolicited headshot from the City of Sclarita. I posed for mine while making a tardy left turn at the same ginormous intersection. I knew the score.
"Mom, you have choices. If you can't pay the fine, you can do community service." This whole community service thing was a welcome relief when I was the traffic offender. I chose to repay my debt to society at the Santa Clarita Senior Center. As yoga teacher and masseuse, I figured I had much to offer the old folks. It was a great fit. Win/win.
The City didn't see it quite the same way. No, I was told by Carlos the merciless Senior Center Lunch Room Supervisor, you won't be doing yoga or massage. You'll clean trays, sweep floors, wipe down tables. Here's your plastic apron and gloves. Don't forget the hairnet. And if you're good you may get promoted to the serving line. (I eventually became the mac and cheese lady. I worked it, sister.)
My mom wound up at the Senior Center, too. A stylish woman, she grudgingly sported the disposable apron and gloves. She almost came to blows with Carlos the Merciless while hand-rolling hundreds of plastic sporks in paper napkins. When her hours were served, she threw in her hairnet and swore to never return. So much for compassionate community service.
Flash forward several months. I realize Mom is taking an offbeat route as we snake through town. When I question her, she tartly responds, "I don't use that intersection at McBean and Valencia anymore. Avoid it like the plague. Damn intersection ruined my life."
I resisted the temptation to snark back a thousand smarty-pants responses. My mom's misguided thinking seemed ridiculous to me until I did some self-inquiry. Wait a minute. In my own misguided thinking, to protect myself from suffering, what do I regularly avoid?
How about my yoga practice? In the beginning, I practiced poses I liked and dodged poses I didn't like. Over time, I realized how the challenge of Half-Moon pose could improve my stamina in Headstand. And when I approach Half-Moon with an open, spacious mind instead of fear and loathing, I can begin to work with the pose. Without adding all my mental nonsense. It's not the pose. It's me.
I see avoidance as a dual sided coin: skillful and unskillful. Skillful avoidance is healthy and wise. We need to discern real danger and elude it. Non-skillful avoidance is shunning something because I mistake it as the source of my suffering. If I avoid the intersection, I won't get a ticket. If I avoid Half Moon Pose, I won't fall. If I avoid love, I won't get hurt. The Yoga Sutras teach avoidance of pain as a crucial obstacle toward peace of mind. How will I learn to handle Life's inevitable discomfort if I avoid it at every turn? And how small am I willing for my world to become so that I can avoid pain?
When I approach my perceived obstacles with impartial intelligence, I make space for growth. When I shine my awareness on the darkness of my misperception, I have an opportunity for evolution. The cruel intersection is no longer responsible for the route I take. The dreaded pose becomes a vital part of my practice. My mind and heart expand.
Meanwhile, Mom is still shunning the McBean/Valencia crossroads while Carlos the Merciless dreams of her return in a spork-filled fantasy. Hairnets flying. Avoiding nothing. Yeeoowww!