Trusting God Today For Tomorrow
I remember when my daughter was real little and I wanted her to jump in my arms, she was very reluctant. It was more of a lean forward until I grabbed her kind of jump. Then after a few times she was comfortable standing on a wall and jumping in my arms as long as it wasn't too high. Today, at five years old, she is fearless when it comes to jumping in my arms.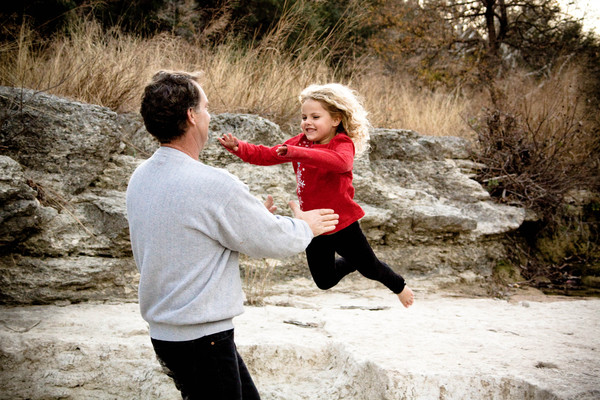 The more she threw herself forward into my arms, the more she trusted me. I have never dropped her and though her first leap of faith was leaning forward on a 2 foot bench, she is now willing to jump in my arms without fear and smile with joy. When she saw that it was good and safe to jump in my arms she started trusting me more. When she surges forward she is surrendering at the moment and relying on me.
Every year I learn more and more about surrendering to God. Even though I know I can leap out to God in any situation, why is it that I sometimes feel like a child who just wants to lean forward without jumping? In the past I have not been real big on "New Years resolutions", probably because I have failed most of them and the ones I was able to keep the battle started far before January 1st. This year, on New Years Day, as I walked down to the creek and prayed, I said to God I want to trust you more in 2011 than I did in 2010. If I trust in the Lord with all my heart, as it states in Proverbs 3:5-6 "Trust in the LORD with all your heart and lean not on your own understanding; in all your ways acknowledge Him, and He will make your paths straight", I know my life will be far more abundant and peaceful. I will experience the great Joy from the good news of Christ our Lord as stated in Luke 2:10.
"But the angel said to them, 'do not be afraid for I bring you great news of great joy that will be for all the people. Today in the town of David, a Savior had been born to you, he is Christ the Lord!" (Luke 2:10)
I will be free from my financial insecurities knowing that God is with me and will not fail or forsake me as stated in 1 Chronicles 28:20. Knowing He will guide my paths to prosperity and hope.
Do not be afraid or discouraged, for the LORD God, my God, is with you. He will not fail you or forsake you. . ." (1 Chronicles 28:20).
And I will be content and have more peace with the things going on in this world. Knowing that God is with me and He is my strength as it is written in Isaiah 41:10.
Do not fear, for I am with you; Do not anxiously look about you, for I am your God I will strengthen you, surely I will help you, Surely I will uphold you with My righteous right hand.' (Isaiah 41:10)
Trusting God more today requires action on my part. I cannot sit idle in my spiritual walk with God, I must continue to seek spiritual growth. Not taking action in my spiritual growth is like running on a treadmill and expecting not to fall back when I quit running. If I am not taking action and moving forward, I am falling back.
Below are three things you can do to trust God more in 2011 than you did in 2010:
1- Study and read the scriptures in the Bible: If I look at the people I trust most in my life today; it is the people that I am closest to. A way to get closer to God is to read and study His word, the Bible. The Bible itself declares, "In the beginning was the Word, and the Word was with God, and the Word was God" (John 1:1). In another place, we read: "All Scripture is God-breathed and is useful for teaching, rebuking, correcting and training in righteousness." (2 Timothy 3:16). Reading the Bible is equivalent to having God speak to you. When we study the Bible we see God is loving, compassionate, knows everything about us and wants us to live abundantly. Knowing Him helps me trust Him.
2- Recall what God has done for you in the past: There is nobody old enough who can read this document who is unable to recognize a God given miracle in their life. Remembering what God has done for us in the past helps us to trust him in the future. In the Bible we can read the story of David defeating the giant Goliath. David came to King Saul and said he would fight against Goliath.
Saul replied, "You are not able to go out against this Philistine and fight him; you are only a boy, and he has been a fighting man from his youth." (1Samuel 17:33)
But David recalls his past, when he was a shepherd tending to sheep and he rescued the sheep from a lion and a bear.
The LORD who delivered me from the paw of the lion and the paw of the bear will deliver me from the hand of this Philistine." (1Samuel 17:37)
David remembered what God did for Him in the past, to help him trust God for the future.
3- Acknowledge how much God loves you: I accepted Christ into my heart on October 10, 1998. I remember Franklin Graham speaking at a Promise Keepers event and he talked about God's love for me and His plan of salvation. How God so loved the world He gave His only begotten son. Most my life, I believed there was a God, but I wasn't sure He wanted anything to do with me for I had done many things wrong. I thought God only wanted good people and I had committed so many sins. I wondered how God could want me in heaven. Later in life, as I have grown in the understanding of God's love for me, I have come to understand how much He loves me. Today, I know that I cannot make God love many any less by doing wrong, and I cannot make Him love me any more by doing right. He just loves me--for He is love!
1 John 4:8 Whoever does not love does not know God, because God is love.
God's love is not based upon me, it is based upon Him. We tend to trust those we know love us most. God loves you more than you could ever imagine. I am sure we can trust him more than we could ever imagine as well.
God bless you and Happy New Year!