This beautiful angelic artwork, was created by Visionary Artist and Angel Communicator,
Lori Daniel Falk
, to help us remember that whatever's going on at any given moment, is just a snapshot of that moment …
it is not necessarily indicative of what's coming.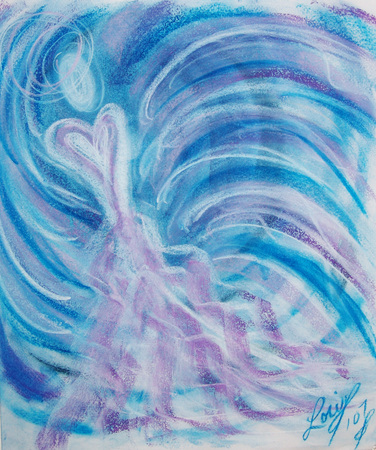 OK let's see if I've got this all right … The Pope resigned … Lightening struck St. Peter's Basilica in the Vatican City that same day … England's Queen is in the hospital … And here in the U.S. President Obama signed an order to implement the dreaded "sequester" spending cuts … All of this in the shadow of the fiscal cliff. Hmmm, it's enough to give even the best of sleepers a heavy case of insomnia.
Is it any wonder people are a bit on edge? A general feeling of discomfort seems to be floating in the air. The biggest problem with all of this is the over sensationalizing by the media, who's profits rise through increased reader/viewer ship. Know this! And let that be the place from which you build a sense of calm, comfort and security around you, your loved ones and friends.
While I know many of you reading this have developed the tools necessary to stay calm through life's many turbulent times; many, many more need to learn how. STEP #1 for everyone is to remember to BREATHE!
When I asked the angels what they wanted YOU to know at this time, here's what they had to say … (Continued at WisdomoftheAngels.com)