Carol, my wife, and I went to New York City to see the sights during the holiday season. We toured the 9/11 site and saw what work was being done for the memorial there. By chance, we discovered an incredible memorial inside the American Express Corporate Headquarters Building at the World Financial Center.
What caught our eye from outside the building was a giant crystal you could see hanging inside the building lobby. We had to go in and investigate. What we saw in that first floor lobby of that building made us "stop in our tracks". We had never seen anything like the memorial for the 11 American Express employees that died on 9/11. It was so captivating, so gentle in its expression, so imaginative, and so beautiful all at the same time. The intent, design and construction of this memorial hit us directly in our Hearts! To this day, neither of us can remove this image from our minds, our souls or our hearts.
This memorial was designed to honor the 11 American Express employees and to move us to remember the human qualities of these individuals. It was about who they were and how they affected others in their daily lives. And what was lost.
As they say, pictures are worth a thousand words. Here are some of our photographs of the memorial: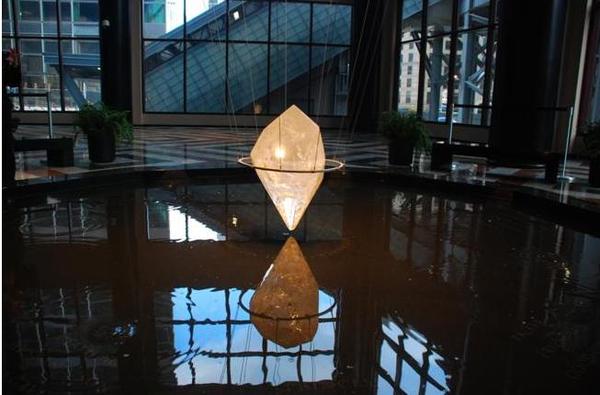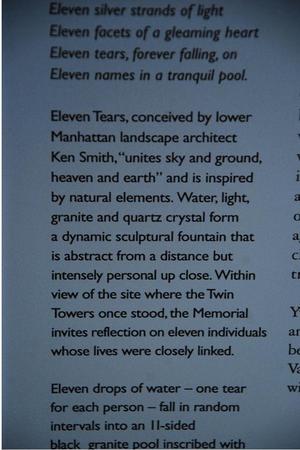 In my opinion, American Express and architect/designer Ken Smith have to be congratulated for such a touching memorial. I certainly would recommend seeing this memorial as it will likely impress you and stay within your mind and heart the rest of your life.
One of the most interesting things I took from this memorial was the importance of each of these individuals. You could feel the importance each of them had to their husbands or wives, families, co-workers, and others they touched.
As a result, I began to think how my wife Carol and I could make a difference in our lives...with all the people we know and those we will meet over the course of the rest of our lives. For example, how can we be better people, or what can we do better to be of service to others that need help? I think this kind of introspection of who you are is very valuable and can initiate thoughts about changing the way you are and what you do on an everyday basis. What about you?
Tom Lumbrazo is a city planner, artist, photographer, and author and he has been married to Carol for over 40 years.
You may contact Tom at his website, www.whenangelstouch.com or email him at Tom@whenangelstouch.com