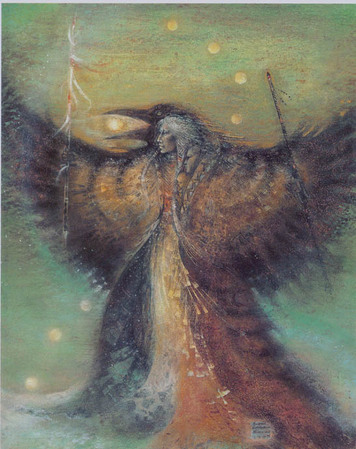 The Morrigane:
I am sitting on my beading table, listening to the radio while working.
My back hurts, time for a break.
The news anchor tells about how many Canadian Soldiers have been killed in Afghanistanin recent days.
What a horrible conflict. I turn it of, grab a cup of tea and go outside onto the deck. It is sunny again! The greenery that surrounds me is still wet from a recent rainstorm.I sit down in my favorite chair.


Where DO they go? - All those young soldiers, that get killed??

Behind close eyes the scene arises:
Yellowish brown desert dust, a barely recognizable vehicle of same colour. Behind it a young lad in army fatigues, crouches for cover, firing at an unseen opponent 100 yards away. Adrenalin pumping through young vibrant vessels, pushing out screaming fear.
Then the vehicle explodes into a yellow fireball, belching black smoke and the adrenaline surges into open empty space drenched in blood......
And there - She materializes out of the smoke and despair- like a phantom - Morrigane.
Reddish purple cloak, heavy with spiralling beading of marcasites, hematite, garnet and jade. A hauntingly beautiful face, a decade past its prime. Looong tresses of black curly hair, graying at the temples, adorned with bluish black Raven feathers.
Amidst the fire, the chaos and destruction the soul-orb of the fallen warrior turns from living rich red to opaque white, hovers above its former body-home - confused....
She bends down, Her slim, delicate, cupped hands lift up the orb and gently transfer it into the bone bowl at her feet. With it She rises, turns to leave, while a rain of bullets race clear through Her shape towards their intended targets.
Where does She go?

............................. There is an ancient stone wall.
Overgrown with ivy and vines heavy with royal blue grapes. A barrage of "Daddy longlegs" with dark red and yellow-orange bodies guard this place. A Seven-Sleeper emerges from the thick, ready to greet his mistress.
Bone bowl in hand She walks through the entrance into the grotto.
In its middle a huge cauldron, hewn from rock, studded with the crystals of destiny.
A stone bench holds phials and soft leather pouches, containing memories, tears and healing.
In a low alto voice Her chant arises.
Aiiiliho iii'uiho hoo'............ It is now heating the waters of transformation and giving voice to all the pain in the known multiverse, vexing it into silence.
She ads the sands and dusts of garnet and hematite into the waters and russet vapour billows up, filling the space.
Summoned by the chant, the shimmering essence of the long departed condenses into a group of iridescent green-yellow orbs, alive with the faces of his ancestors.
She raises the bone bowl, holds it to Her womb, Her heart, Her temples and then high above the cauldron. Ever so slowly she tilts it, until the soul-orb floats free.
Spiralling slowly it is shedding its red colour back into the cauldron below, then, floating towards the waiting ones, it assumes their yellowish-green glow.
An ancestor among ancestors.

That is, how our warriors return home.

She lowers her arms, the vapour vanishes, all turns to black.
All that remains is the all knowing Seven Sleeper ... (dormouse).

And even She metamorphoses into the Squirrel, sitting on my knee,begging for nuts...

I get up- to make a necklace out of garnet, Hematite, marcasites and bone beads.....

...... to honour Her.