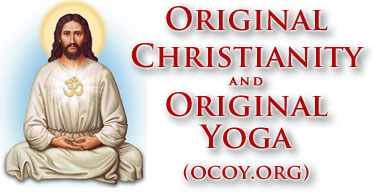 We have begun a new website about Original Christianity and Original Yoga at OCOY.org, and we invite Beliefnet readers to visit and give your thoughts.
Why Original Christianity and Original Yoga?
When we hear the word "original" we naturally think of it in a historical manner: Original Christianity is the original form of Christianity given by Jesus to his disciples; Original Yoga is the first yoga practice ever employed by those who thereby became yogis.
Original Christianity is not church membership nor even a religion in the formal theological sense. Rather, it is discipleship: a direct, living, personal connection and communication with the Lord Jesus Christ, who spent his "lost years" in India. How is this accomplished? Through the Sacraments, those rites of spiritual purification and empowerment instituted by the Lord Jesus himself and continued by his Apostles and their successors. (See The Yoga of the Sacraments.)
Original Yoga is easily determined by a perusal of the fourteen basic texts of Sanatana Dharma, the Eternal Religion, of India: The eleven major Upanishads, the Brahma Sutras, the Bhagavad Gita and the Yoga Sutras–all of which would have been known to Jesus. This latter text, the supreme authority on Yoga, explains that Yoga is union with God; and that union is brought about by repetition and meditation on His spoken form or mantra: the Pranava, the Word of Life. The other authoritative texts here listed say exactly and exclusively the same thing. (See Pranava Yoga: Divine Word Meditation: Its Theory and Practice.)
But there is another, higher spiritual meaning of Original Christianity and Original Yoga: that Christianity and that Yoga which returns us to our original state of consciousness regarding which Jesus prayed: "O Father, glorify thou me with thine own self with the glory which I had with thee before the world was" (John 17:5). For before the world was, "when the morning stars sang together, and all the sons of God shouted for joy" (Job 38:7), we consciously knew that we were one with God and part of Infinite Being.
Original Christianity and Original Yoga have one purpose and effect: the liberation of the disciple and the yogi.