I am a mother, wife, and family caregiver on many levels. Because of that, I do NOT do illness well when it pertains to my own health. I dislike being laid up in bed. I always seem to think I need to rise and meet the challenge, walk it off, drink more water and act like nothing's wrong. Yesterday I started to come down with the flu. I learned the difference between a mild generic virus and that actual flu bug many years ago. If you move your eyes side to side, it hurts very much if it's the flu. That's because the virus attaches itself to your retinal nerve. Fun, huh? Um... yeah.
Well, I'm here alone with no one to 'care' for me, but I'm okay with that. My daughter in the medical field is 3,000 miles from me at the medical office where she lives. My immediate family are off to work and school. My husband's niece is a nurse and she is hard at work.
Me... I am here in my bed with two little white dogs laying beside me. Sometimes I think they were sent to me by God for just such moments. They bring me such warmth, comfort, love and attention, without any 'guff.' They are the perfect companions when you don't necessarily want human companionship. It never ceases to amaze me how anxious and excited these little dogs are to 'lay around and do absolutely nothing' considering how high energy they are. For that reason, I am succumbing to that need myself... for them. Not for me. *insert wry wink here*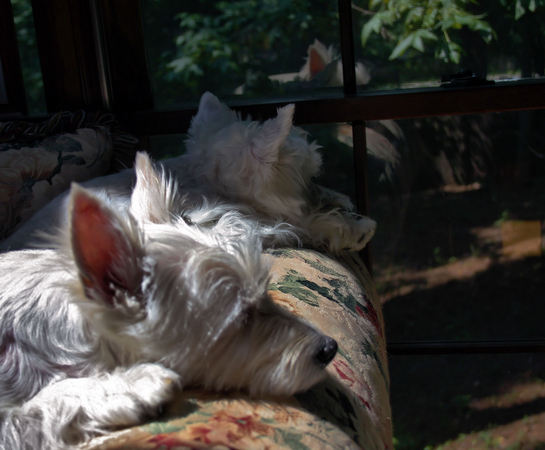 I hope you get your flu shot, or the flu avoids you. Here in our area, near Atlanta, Georgia, it is widespread. I thought I'd already had it, but now that I think back on it, I realize I had a very bad cold. The eyes weren't affected. I'm doing my best not to look back and forth rapidly.
Blessings. Be well.