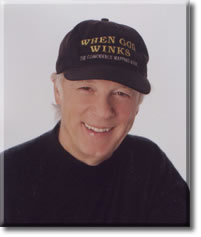 SQuire Rushnell --yes, that's a capital Q -- presents his popular GODWINK STORIES™ on Beliefnet in twice-weekly video vignettes that will lift your heart and make you smile. Visit him here on Monday and Wednesdays for his latest video!
SQuire defines a "Godwink" as what some people would call a coincidence, an answered prayer, or simply an experience where you'd say, "Wow, what are the odds of that!"

A riveting and charming story-teller, he encourages us to pay attention to the many ways in which God winks at us every day – leading us to where we need to be in life, connecting us with the right people and opportunities, at the right time.

The word-of-mouth phenomena known as GODWINKS ™ has become a part of our cultural vernacular. SQuire has authored three best-selling books in the series: When GOD Winks: How The Power of Coincidence Guides Your Life (Simon & Schuster 2002), When GOD Winks On Love (Simon & Schuster 2004), and When GOD Winks At You, (Thomas Nelson 2006).His fourth book, just out, is When GOD Winks on New Beginnings (Thomas Nelson 2009).

SQuire and his wife, comedic-impressionist and TV host Louise DuArt, also co-authored Couples Who Pray:The Most Intimate Act Between a Man and a Woman (Thomas Nelson 2008). Their love story is one of his favorite GODWINK ™ stories! They travel the nation and meld their talents into "An Evening of Inspiration & Comedy."

Through his four-decade career in television and radio SQuire has set himself apart as a performer and producer with great heart and soul. A veteran ABC Network Television executive, he led Good Morning America to number one. While ABC Vice President Family Programs he was a father of the acclaimed Schoolhouse Rock series and ABC After School Specials capturing 75 Emmy Awards. After the tragic events of nine-eleven he left his six-year position as a cable network TV President/CEO to follow a life-long dream to be an author/inspirational speaker.

He and Louise reside on Martha's Vineyard in Massachusetts and New York City. For more information, please consult: whengodwinks.com <whengodwinks.com/> , louiseduart.com <louiseduart.com/>&nbs... and coupleswhopray.com <coupleswhopray.com/>&... .