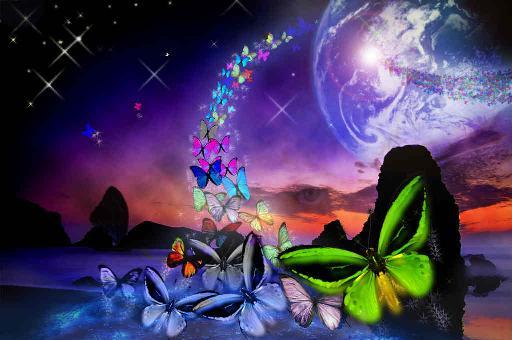 July 10, 2009
I am an avid journaler and am being guided to share my thoughts, wisdom and knowledge with the community at large. So, this is the first of many journals I will be posting for your benefit should you find anything that will help you along your spiritual ascension.
As I contemplate my position here in this world and my own life's path, I realize that we can never truly understand the grandness of our existence. The more I learn and explore the deeper it goes and the information just spills out into all aspects of my life. This in turn creates the opportunity to explore more. The answer is never "the answer" for there is always more to the answer.
With the world around us split into many different realities, I find that it is up to me to decide what I choose to experience. However, at the same time do I really have a choice? For, if my choice takes me off my path Universe is sure to redirect me peacefully or kicking and screaming to course correct. So, in my understanding of my own spiritual ascension, there really is no choice rather we have an internal Navigator who is directly connected to the greatness beyond our regular senses. By surrendering to the process and allowing the Navigator work in co-creation with the universe life can be smooth sailing.
It is clear that fear, judgment, hate, resentment and such are the downfall of man. Prior to creating these emotions and perceptions we lived a life full of joy, peac, happiness and a healthy reverence for our fellow man/plant/animal. The Native Americans respected and honored this connection that all others have lost these days. A simple few minute "break" from the chaos of life can bring much need relief to the overburdened, overworked, overstressed system both the organic (Earth) and the physical (human). We all live within the dance of life interconnected with all that is both within our grasp and understanding as well as that which we see/feel and experience.
I see my spiritual ascension as an opportunity to move beyond what I have known for so long, that does not work for me. I see the simplicity of life as key to being truly happy being alive. Nothing is so bad that I can't turn it around to bring positive experiences to my journey. I have chosen to be here, why would I sabotage something that offers so much beauty, magic and love? I have learned that a simple smile, thank you, or touch can be a world of difference for another person (and myself) such that they (I) can believe that there is a purpose for me being here and that the time spent in awareness on this earth is worth every second.
By inspiring myself to reach for the stars and know that no matter how I get there or what roads I take, in the end I have been blessed with this life and the bottom line is "All there is, is Love." Very powerful thought....in any situation knowing that through it all Love is the key to bring peace, joy and happiness. It starts within and then moves out into the environment around us. If you ever watch a child play, they have no worries about the past or the next moment. They are engrossed in the moment and laugh, laugh, laugh. Life still goes on, but they are in a world of wonder and pure joy.
I work daily now to bring in this childlike energy to my experiences. Otherwise, why am I here? I wish to enjoy all the world has to offer, open my heart and eyes to that which is right in front of me but I may not have noticed before. A child can get on the ground and watch an ant for hours. The simplicity of this acitivity shows me that we complicate things so much that it throws us totally out of whack. Then we spend our whole lives trying to undo what we created.
Life is short....live life to the fullest. Don't sweat the small stuff. Universe is always talking to me and showing me how to benefit from all there is to see/explore and experience.
May we all be blessed with the light of love, peace and harmony!