Last night while I was unpacking the kitchen - so many boxes! - I heard an EERIE Radio podcast on the paranormal experiences of autistic people. (Interesting and well worth downloading, but EERIE employs a lot of banter that's not always squeaky clean, so some people may prefer to listen to the interview portion only - as I remember, it was pretty inoffensive.)
Essentially, though, guest speaker Charyl Pingleton had two theories that really captured my attention: 1) that people with autism are more likely than the rest of us to see ghosts or "shadow people", and 2) that this is particularly interesting because of what we know about autism, and the more profoundly autistic the person, the more interesting his or her experience.
Here's why: people with autism are visual, literal thinkers. Generally speaking, they exhibit virtually no ability to think abstractly. A non-autistic child might have an imaginary friend, for instance, but an autistic child would lack the capacity to imagine somebody was there. As Charyl pointed out during the podcast, making up a story about seeing a ghost would require understanding of a bundle of abstract concepts, including death and an afterlife. It isn't very likely.
For the past six months, I've worked in an afterschool program, and part of my job was giving care one-on-one with a little boy who fell somewhere on the autistic spectrum and was profoundly developmentally delayed. I'll call him Mikey (not his real name, of course). Mikey could be very sweet and charming in his own way, but he couldn't be left alone for a moment because he had no concept of personal safety. For instance, he'd walk in front of oncoming traffic with no clue why that might not be a good idea. They decided he needed one-on-one care during school hours after he pulled the fire alarm one day. He likes spray-bottle toys, but he can't tell the difference between a toy spray bottle with water in it and one with "chemical hazard" labels in six different languages.
But what's relevant here is that, the entire time I knew him, Mikey wasn't able to lie. He was an open book because he really didn't have the capacity to understand that if he said something different, it would change the outcome: that if he lied and said he wasn't going to throw the ball over the fence, I would let him play with it again. So we had a lot of conversations that went like this:
Salcia: If I give you the ball back, are you going to throw it over the fence?
Mikey: Yeah.
Salcia: Okay, then. I'm keeping the ball so we don't lose it.
Mikey: Wanna play ball.
Salcia: Are you going to throw it over the fence?
Mikey: Yeah.
And it could go on like that for quite some time. The little guy couldn't tell a simple lie. Granted, that is just one child at one point on the autistic spectrum, which ranges from virtually indetectable symptoms to profound developmental disability. But let's just say that in light of my personal experiences with autism, it's a compelling thought worth further investigation.
It seems like the question all hinges on whether autistic children are able to abstractly think. Can they make up imaginary friends, for instance? I know Mikey used to sometimes seem like he was playing a game of basketball with imaginary teammates; he would give them instructions and pretend to receive passes from them. But is that what he was really doing, or am I just imposing my own meaning on the actions I saw, relating them to something that's familiar to me because I can't understand how his brain understood them?
I'm not sure I can answer that question, but I'm intrigued by the idea that children who seem disabled in our eyes are actually just "listening to something we can't hear"* - that they have extrasensory capacities far greater than ours, that those capacities may even be the cause of their disability. Is this wishful thinking? Do we just want to believe that no one has diminished capacities, just different ones? Or could there be something to the idea that autistic people are perfectly situated to see the unseen?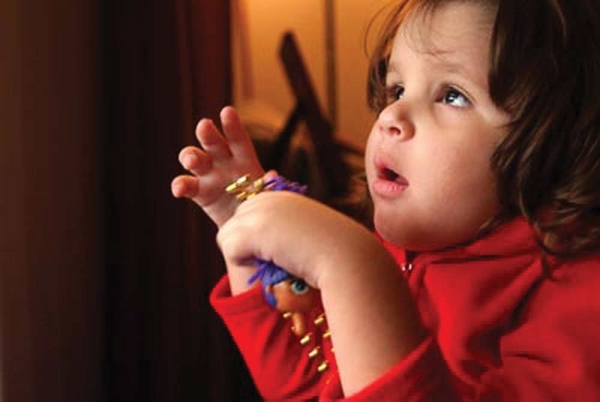 *This is actually a quote from the movie Bless The Child, used to describe a little girl diagnosed with autism. She becomes the centrepiece in a cosmic battle between good and evil because of her uncanny abilities that ultimately lead people closer to God.