Every year I struggle not to get going on a rant about all the things I feel is wrong with Christmas these days. Some years I succeed and some years I don't. I can tell you that people tend to think of me as a "Grinch" or a "Scrooge" afterwards which is the last thing I want to convey. It's just hard to express your feelings, expecially negative ones, at this time of year without coming off as a crack pot or a "Negative Nelly." Which is not what I'm trying to put across but instead I try to point out how far we have travelled away from the original meaning of Christmas and how everything has gotten so "over the top" with all things Christmas. It's now a commercial driven frenzy that causes many many people to feel "less than" because they can't create that "perfect" Christmas. And for what it's worth I think that Martha Steward can accept part of the blame for creating the monster of a "celebration".
What prompted me to write a journal post today was Therese's blog today :
blog.beliefnet.com/beyondblue/ Mental Illness Takes No Holiday. Here is my response to that post as it pretty well sums up how I feel and what I struggle with each year at this time.
This brought tears to my eyes and a lump in my throat. Although I have never had the unfortunate experience of being alone at Christmas I've certainly had that feeling. While the rest of the world seems to be all "happy and merry and bright" I was shrouded in the darkness of my depression. For years now I've hated Christmas. Oh, I've put on a good face and go through the motions of creating a happy Christmas celebration but inside of me I want to scream. Even during those years, like this year, when my depression was not too overwhelming the whole big "show" that comes at this time of the year just grates on my nerves.
People have been complaining since I was a kid that it's gotten too commercialized but that's not it…. to me it's become too de-personalized. It's all about the "perfect" everything and society no longer focuses on the individual. On the people who celebrate Christmas in what ever way they can. Why we even have this celebration has long long ago lost it's original meaning. To me it's gotten just way too big…. HUGE even.

What happened to the simple time of celebrating the birth of someone who would change the world in his life time? What happened to the remembrance of his humble birth, so much like our own births. Each of us perfect in our uniqueness and we don't need inflated fake snow globes with polar bears in them to show off to the neighbors.

This birth of an infant came with a message of love and peace for all mankind. It didn't come all wrapped up in foil and a "perfect" wired ribbon bow!!!
How much better I would feel at Christmas if only we could focus on the message and share our love and understanding to those we know and those we don't know. The child whose birthday we are celebrating, long forgotten now among the retail frenzy, came with a message that we are all special in God's sight. And even if we are physically alone on that date…. we are never really truly alone.
I shake my head at those huge Christmas displays on my neighbor's yards. So many things that have nothing to do with Christmas..... it's more about winter. They may feel good about the "show" they've put on but I wonder if they've ever stopped to think of how many hungry people their electricity bill would feed.
Yep... I could go on for longer but I think you get the general drift. And so I am often "alone" at Christmas. I may be surrounded by people but my heart is yearning for that peace that only comes when everyone isn't rushing around in a frenzy trying to make things perfect somehow. Sit with me awhile and lets read the story of this remarkable birth.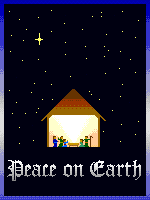 Razz