Recently, as I was sitting at my computer, my attention was drawn to the headline of an advertisement that said

"It pays to follow the crowd; especially when it leads to great rewards".

Such an interesting statement! To follow something that can lead you into great rewards sounds like a very smart thing to do. I spent a while thinking that thought over. I wondered, what if you got in behind a wrong crowd, and then found you had wasted much time time and money, and your reward was not to be seen. It's quite possible to be led down some paths that go nowhere, even though there is a promise of success given. I've sure been there, and done that. We find as we go a true fact of life. There are all kinds of people who desire to lead crowds, and all kinds of people who are looking for something they consider worthwhile to follow. There is another true fact we should consider here. We can get in behind people who are confused about where they themselves are going.

Some of what I am seeking to illustrate was portrayed in a humorous but true way in the plot of the movie "Forest Gump". In this movie, a thread of the words of wisdom taught him by his mother, played by Sally Field, was woven though the story line. This nugget of wisdom was "Forest, stupid is, as stupid does." The main character, Forest Gump, played by Tom Hanks, began as a young boy being often encouraged by various friends and enemies, to "Run, Forest, run!"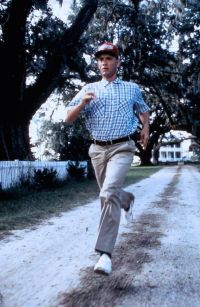 On one of his famous runs, as he ran, people, one or two at a time, got in behind him and started following him. It became a very large crowd, and he kept peeking around at the people over his shoulder, seemingly very bewildered. It seemed to me that he might have known within himself that he did not have the foggiest notion where he was going, and wondered why in the world they were following him. Even so, he just kept running, and they just kept following.
So, why were they following him? Give it some thought. Do those you are following know where they are going, and are they able to reward you when you follow them?

The truth of Mrs. Gump's wisdom seems to shine through. "Stupid is, as stupid does"
Psalms 94:8...
Pay heed, you senseless among the people; and when will you understand, stupid ones?

There is a lesson to be learned here. We all have a desire to connect with other human beings, but wisdom is desperately needed by all who are seeking leaders and crowds to get in behind. Wisdom sought and applied in seeking worthwhile leaders and crowds to follow can most certainly lead to great rewards. So how do we apply wisdom to judge what is worthwhile?

Proverbs 8:32-35
Now therefore hearken unto me, O ye children: for blessed are they that keep my ways. Hear instruction, and be wise, and refuse it not. Blessed is the man that heareth me, watching daily at my gates, waiting at the posts of my doors. For whoso findeth me findeth life, and shall obtain favour of the Lord.
I suggest that we may all set our hearts to learning how to seek the wisdom of the Lord. We want to follow crowds who have a proven track record for fulfilling rewards promised. Will you consider the great crowd of witnesses in the word of God? Have you heard of Abraham, who set his heart to following and obeying the voice of the Lord, and became the Father of God's family in the earth? Many generations of family and friends got in behind him, and still follow his examples today. For the sake of this one man, nations and people groups are still daily receiving blessing. He began the lineage that produced the Lord Jesus Christ, and that lineage daily brings salvation to the world. Or how about the faith giants from Hebrews 11? Common human beings who have all been commended by the Almighty God as worthy of praise. Men just as you and I, who left a glorious inheritance for their children following behind them for generations?
It might be that you are not called to be as an Abraham, or as a KIng David. But these great examples of godly leaders all had faithful men who served and followed them and were richly blessed for that faithful service. All are called to learn to honor and to follow those who follow Christ, with the promise of rewards. God is faithful to his promises as no man can be. He said if we give one of his anointed ones so much as a glass of water because they are his, we will not lose our reward! The blessing of a glass of water would be a small beginning, but it is a beginning.

By setting the heart to God's promises and his leaders who demonstrate the fruit of being Christ followers, great rewards will certainly get in behind you and chase you down, and also your descendants. God's promise is to you, and to your children, and to your children's children, both in this life, and in the life to come.

Pray without ceasing that you may be found too wise to get in behind the Forest Gump's of this world. Stupid is, as stupid does!

Romans 8 14
For as many as are led by the Spirit of God, these are sons of God.

God's Promised Everlasting Love
Romans 8:31

What then shall we say to these things? If God is for us, who can be against us? He who did not spare His own Son, but delivered Him up for us all, how shall He not with Him also freely give us all things?

Scripture Source / Holy Bible