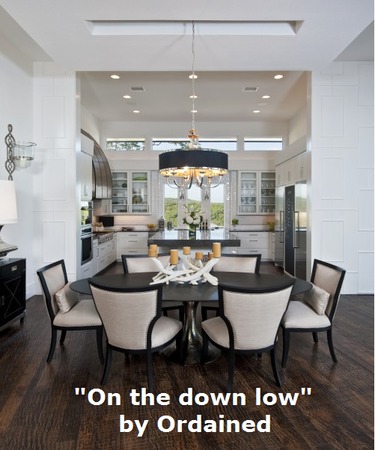 [MESSAGE TWO]
Now you know, you have to just love this kitchen and the lighting, and the furnishings, and the floor, and the appliances and all ~ But what I want you to do is just really take a LOOK at it ALL...
Whenever people come around that table, suddenly, the conversation turns to a down-low type discussion. By that I mean, people start talking about things that make you want to say...as the saying goes, "Too much information!"
I don't know if it is the height of the chairs or what – maybe it is the proportions of the body structure that tend to shrink the people when they sit in them. Or maybe the tall begin to feel small in them – not sure what it is, but I do know that design is KEY to comfort.
I think I'll light those candles now so that you can stay a while, because I want you to know that the way you are designed is KEY to WHO you are. You have been marvelously designed for a specific purpose. Just like this kitchen. Whether or not it makes people spill file cabinets of information about themselves or not, it has its own specific design for its own specific reasons.
Just like you, you have your own specific design for your own specific reasons. All of your "on the down low" stuff (or under the table stuff – or under the rug stuff (even when there is no rug there – smiles) is for a reason as well.
It doesn't matter what has happened to you in your life. You have endured. Remember, whatever has happened to you -- TRUST me, it is ALL for a specific purpose. And, if for some reason you come over and sit at this table, and spill your life out, it will be okay – I'll light the candles, and you can stay a while.
Because at this moment, life is STILL worth living. God is STILL GOOD, and friends are just a table away. So reach out and touch somebody's life today, even if it is just to listen quietly.
I'll be back to tell you more stories from my "on the down low" episodes. And, trust me when I tell you, you don't want to miss them! Laughter is good for the soul.
This Evening's Bible Scripture:
Psalm 126:2 ~ AMPLIFIED BIBLE (AMP)

Then were our mouths filled with laughter, and our tongues with singing. Then they said among the nations, The Lord has done great things for them.
See you around the table tomorrow (on the down low)...
Love,
Ordained
"On the down low"
by Ordained
© 2011 ~ Ordained ~ All Rights Reserved