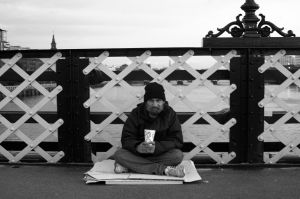 As if being unemployed for months and months and months weren't bad enough, the unemployed face another major hurdle in their quest of finding another job--being unemployed.
According to Liz Goodwin of Yahoo's The Lookout:
"Hundreds of job opening listings posted on Monster.com and other jobs sites explicitly state that people who are unemployed would be less attractive applicants, with some telling the long-term unemployed to not even bother with applying."
The article goes on—in a shocked tone—to discuss how employers are consistently shunning unemployed workers in favor of their employed counterparts. This article treated the whole subject of unemployment discrimination as news, as something new.
But employer discrimination of unemployed job applicants is hardly new. It has long been a truism that you will always have a better chance being hired for a new job if you are already employed.
The real story here is that employers are actually crass enough to actually tell the
unemployed not to bother to apply at their companies. Why are they so blunt in
this particular preference? Well, for one, it's not illegal to discriminate against the unemployed. For another, they probably get buried in resumes from the unemployed every time that they post any ad—well, duh—and so they figure that they will just tell the unemployed not to apply.
Bad move…at least as concerns me. This employed woman plans to boycott any company who blatantly discriminates against the unemployed. And I plan to write a letter telling them so. Will you join me in this effort?

Image by Piotr Ciuchta