"Shall we go out into the street, Easter my dear, and repeat the exercise? Find out how many passersby know that their Easter festival takes its name from Eostre of the Dawn?" - "American Gods" (chapter 11), by Neil Gaiman
Spring is here but winter's chill still cluches tightly to the days. Still, there is work to be done. The last week in March was spent scrubbing the house top to bottom: Dusting the furniture and ceiling fans, washing the curtains and venetian blinds, washing the walls & baseboards and hard floors with a few drops of Louisianna Van Van oil added to the water, etc.
As last year, the holiday snuck up on me so I delayed my spring celebration until Easter. My first task on easter morning was the spiritual cleansing of the house. I had my ritual bath, got dressed in light colored clothing and began.
White flowers are a must, both for offering and asperging. My fumitories are an uncrossing incense (to which I will add a pinch of sulphur) and white sage.To my usual smudging feather, I have attached a black hen's feather. The basin is for my cleansing wash which contains a tea made from 13 uncrossing and protection herbs, sea salt, and Firey Wall of Protection oil.
When I was finished, I did not have the dramatic sign that I did last year but the house felt calm and peaceful. So I began cooking/baking. This sweet almond bread hides some golden rasisins inside.
After the intense spiritual cleansing and two dinners I was near exhausted but still one more thing to do: My Ostara ritual!
I dyed my eggs naturally. The yellowish orange color was made by boiling the eggs with a tablespoon of ground tumeric. The light blue was made by boiling the eggs with a handful of blueberries. The decorations were paint and marker.
Only after taking the picture did I realize that in my tiredness I drew my celtic spiral wrong. But I left it because it was still made with love and one has to learn to laugh at one's self rather than get frustrated because the offering wasn't perfect. The Gods don't demand perfection, but honesty.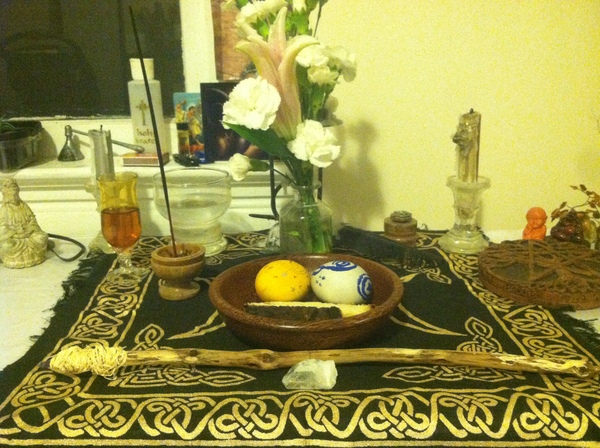 My offerings were the eggs and the bread I had made earlier. I also had a small glass of honey mead. For this ritual, I used the Homeric Hymns to Jupiter and Juno. It was my first time invoking them together but it felt comfortable, if a bit serious. I finally lay down to rest after my long day but I had the beautiful smell of lilies in the house for days!