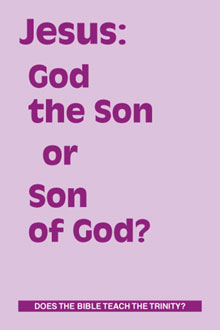 Jesus NEVER refers to himself, purely and simply, as God. In fact, when the Jewish leaders accuse him of making himself equal to God ...
The Jewish leaders replied, "We are not going to stone you for a good deed but for blasphemy, because you, a man, are claiming to be God." (John 10:33 - emphasis by MdS)
... he corrects their misconception ...
34 Jesus answered, "Is it not written in your law, 'I said, you are gods'? 35 If those people to whom the word of God came were called 'gods' (and the scripture cannot be broken), 36 do you say about the one whom the Father set apart and sent into the world, 'You are blaspheming,' because I said, 'I am the Son of God'?" (John 10:34-36 - emphasis by MdS)
... with unmistakable words, that only people with trinitarian glasses can mis-read as though it was written "I am god-the-son" ...