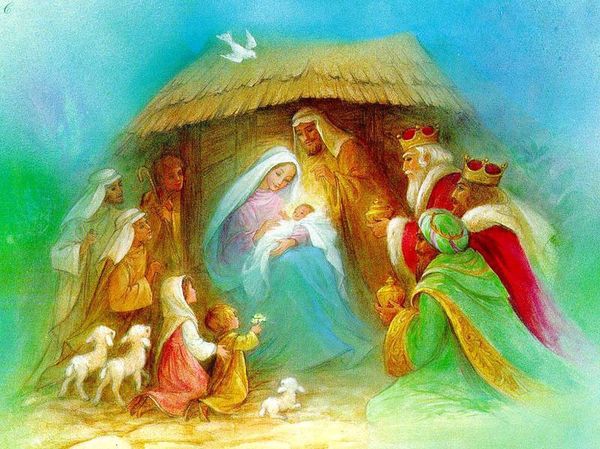 A precious baby is born unto us "the Messiah" to rescue us from all our sins please read (Luke 2: 11). Picture a precious baby in mind, loved and adorable cooing bubbles innocently blowing from his mouth, thenceforth, begins to cry even so he's comforted and protected in loving arms makes him not as fussy. Thus, the Christ child wasn't born irritable or cranky but as a love gift for our salvation wrapped in swaddling clothes in a manger-- a feeding box for the animals, but born a servant to bring men from blindness into the light please read (John 9: 39).
Why the Messiah:
Thus, before this special baby birth he wasn't born inside a safe hospital with knowledgeable doctors and nurses nor in the comfort of a home with a cozy cradle and a warm blanket surrounded by likeable cute toys, and a hanging musical toy playing lullabies nor a house with temperature control AC/heater unit, but outside in a manger wrapped in swaddling clothes with barn animals and straw. However, the angel of the Lord was there emphasizing his holy and royalty status our Savior Jesus Christ, which means Immanuel "God with us" please read (Matthew 1: 20).
He came as a Servant:
Servant: 5 and now the Lord speak—the one who formed me in my mother's womb to be his servant, who commissioned me to bring Israel back to him.
The Lord has honored me, and my God has given me strength 6. He says, "You will do more than restore the people of Israel to me. I will make you a light to the Gentiles, and you will bring my salvation to the ends of the earth."7 The Lord, the Redeemer and Holy One of Israel, says to the one who is despised and rejected by the nations, to the one who is the servant of rulers: "Kings will stand at attention when you pass by. Princes will also bow low because of the Lord, the faithful one, the Holy One of Israel, who has chosen you" please read (Isaiah 49: 5).
He was born by a virgin with this purpose unto us:
14 The Lord himself will give you the sign. Look! The virgin* will conceive a child! She will give birth to a son and will call him Immanuel (which means 'God is with us'). 15 By the time, this child is old enough to choose what is right and reject what is wrong. Thus, we have a redeemer who loves us enough to give us his only son-Jesus to keep us as a ransom thus salvation.
The Lord is with all those who accept him as Lord and Savior Jesus have come into the world to save us from the wrath that eagerly awaits us it reads: For all those without a Savior, hence Jesus was born from the womb for all. The Lord remembers his people extending from Abraham, Isaac, and Jacob to bring us from captivity of darkness into the light. Behold the Lamb of God who comes into the world to take away the sins of the world and to save us as a ransom for thus salvation. please read (John 1:29)
Lastly: Christmas Trees and Santa:
Although Christmas trees are beautiful to dress up in assorted garland, and pretty lights turning on and off, yet all so lovely to watch the beautiful decorations covering it attracts the tree alone with its fresh pine scent that satiates the entire house, hence represents Christmas, but neither a Christmas tree or Santa Claus a man who loves to bring gifts for all bringing Christmas cheer is none compared to our Jesus who died for all our sins is the true meaning of Christmas.
Salvation is available:
This Season remembers Jesus is our only hope today, tomorrow and forever in a dying world full of unexpected chaos and misery. So ask him to be your Lord and thus Savior with a sincere heart and believe in Jesus name especially in a time as this because nothing is safe or certain without him.
I love you Mom. I love and I miss you Dad rest peacefully in Jesus. I write as a ready- made writer for Christ: To Inspire and Be Inspired.
Love Maggie J