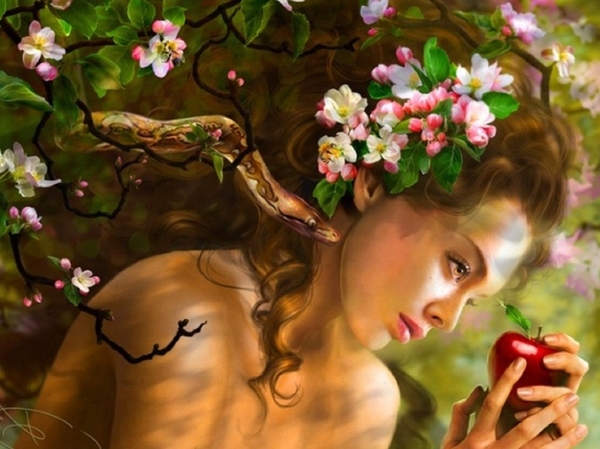 In Ephesians chapter one, Paul a bond servant of the Sovereign (God) explains to Christians that we have obtained wealth because we are united with Christ. Our blessings are so great, that even our mere imagination or thoughts are too vast to obtain. Even though we have the spiritual blessings, we also have the spiritual warfare in our daily walk with him. God has already given us our inheritance he predestines according to his will and purpose as long as we're in a constant fellowship with him (Ephesians 1).
Adam for instance is the first man God created who constantly fellowship's with the Lord because he walked and talked with him daily. He was given authority over the birds of the sky, the animals and the beast of the field God created ( Genesis 2: 19). He could eat fruits from any tree in the garden; except, the curse tree of good and evil, and Adam obeyed. God loved Adam and gave him everything he desired as long as he remained in him. At that time, man and beast could have a friendship. Meaning, Adam could sit with wild animals without harm, and animals were not in zoos or wild life reserves like today. Because no sin entered the land nor did Adam adventure out into sin.
SIN is an act, or way of behaving that goes against the laws or teaching of our faith which forbids us from approaching God's throne ( Hebrews 4:16).
Until one day Adam ask God for his heart desire. He wanted a companion as in marriage. So, God did honor his request knowing that it's not good for man to be alone, by putting Adam under a deep sleep, thereby taking one of his ribs from his body and creating a woman his wife, " Eve." ( Genesis 2: 19-25).
Now back to Paul. When Paul tells us about our Spirit man, he means our spirit man must be in a constant relationship with our Sovereign God as our fellowship. For we have died to sin; therefore, we are commanded to seek things that are above( Heaven), instead of this waste-land on earth. Set our passion on him as Adam did totally sold out to him. So, when Christ appears we will appear with him in all his glory ( Colossians 3: 4).
If we're not in our Bibles spiritual warfare can attack us like a snake.
Eve was given the same commandment as her husband Adam not to eat from the curse tree of good and evil . Instead, Eve specifically turn down the fellowship with a Sovereign God, but to be impressed by the world's waste land. Then the attack of that old serpent ( Rev 20: 2) fail upon her, because he was more subtle than any creature God created ( Genesis 3:1). He worked closed with God in heaven and was God's right-hand angel good-looking and wise. But, he form an alliance against God with a third of God's angels who were cast out with him. He was cast out of heaven like a lightning bolt cursed to eat the dust of the ground( Gen 3:14) all of his life because he betrays God in heaven ( Luke 10: 17-20).
The Bible is descriptive about the father of lies all he knows is lies( John 8: 44). A murder and thief ( John 10: 10). But Eve didn't discern the truth. So, he deceives her with a lie, "Saying ' You will not surely die. For God knows that in the day you eat of it, your eyes will become open and you will be like God, knowing good and evil,' " ( Genesis 3: 4-5). The temptation of Satan's tongue influence the affect over her, then Adam by its effect. So, Adam and Eve betray their personal relationship with our father God, but only to come back to God after they were cast out of the garden of Eden by God's curse knowing that without God man will fails ( Matt 19: 26).
So, let us stay under the protective covering of God's grace and keep " the fellowship," of righteousness with him so we won't be deceived by Satan's seducing spirit as Eve by the devil-- (Gen 3: 21).
We are no longer in that cursed garden no longer is sin our keeper. We are not condemned (Romans 8: 1-3). God wants us to sit under his feet and adore his love for us which is the fellowship with him.
God is the way the truth and the life ( John 14: 6-7).
My tongue is like ink to paper: To Inspire Be Inspired [all scriptures found in the holy Bible] I love you Mom and Dad. My journal continues, Maggie. :)