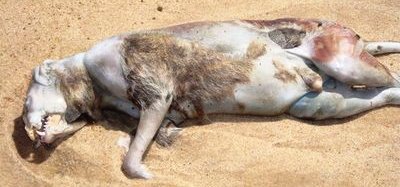 I know this sounds a little paranoid but I am concerned that Homeland Security is moving the Plum Island Animal Disease Center from Plum Island, New York to Manhattan, Kansas. Of course, it will no longer be called the Plum Island Animal Disease Center but is being renamed the National Bio – and Agro-Defense Facility (NBAF) (Stein, 2010). The National Research Council released a one-hundred and forty-six page report that estimated that there is a seventy percent chance of a mistaken release of foot and mouth disease from the NBAF within the fifty year proposed lifetime of the facility (Van Dyke, 2010). So if there is a seventy percent chance that foot and mouth disease of being released then what is the chance that any other virus could be released? After all, foot and mouth is not the only virus and disease that they experiment with.
There are many conspiracy theories surrounding Plum Island Animal Disease running wild lately. It doesn't help that the Dr. Erich Traub, a German scientist who worked for the Nazis, helped to create the facility. He specialized in psuedorabies and lymphocytic choriomeningitis virus, two not very pleasant sounding viruses. Dr. Erich Traub worked directly under the infamous Heinrich Himmler. Yet, he still found employment with the United States after the war….
One conspiracy theory is that Lyme disease was actually created at Plum Island. Another conspiracy theory is that the corpses of the Montauk Monster, because I believe there are three separate instances, were animal experiments that originated from Plum Island.
Whenever there is secrecy there will always be conspiracy theories and theorists abounding. The only way to prevent them is by shedding light on it and letting it out in the open for everyone to know what is going on there. I understand the need for security and confidentiality but our money is funding it and they are our employees, so in essence anything that they cook up in their "secure" little labs, are our responsibility. It is a mistake and in my opinion just stupid to think that humans are more intelligent than nature in believing we can design and control such things as viruses and diseases.
Sources
Gillam, C. U.S. animal disease lab carries risks, report says. Yahoo! Finance. 15 November 2010. finance.yahoo.com/news/US-animal-disease...
Stein, R. Proposed lab for study of animal diseases raises safety concerns. The Washington Post. 15 November 2010. voices.washingtonpost.com/checkup/2010/1....
Van Dyke, A. National Bio and Agro-Defense Facility advances despite critical report. Kansas City Business Journal. 15 November 2010. www.bizjournals.com/kansascity/news/2010....
Wikipedia. Erich Traub. Wikipedia. 12 November 2010. en.wikipedia.org/wiki/Erich_Traub