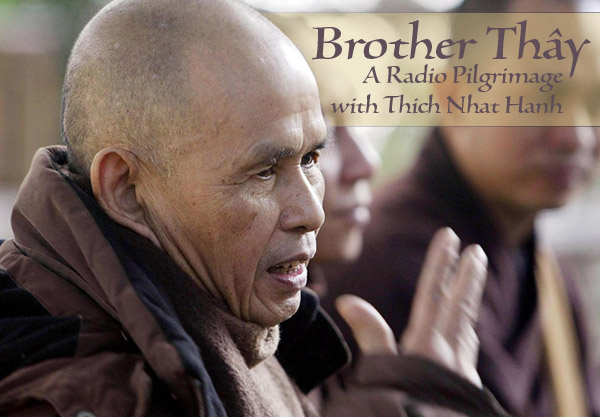 Brother Thây: A Radio Pilgrimage with Thich Nhat Hanh
Thich Nhat Hanh first came to the world's attention in the 1960s during the war in his native Vietnam. He forsook monastic isolation to care for the victims of that war and to work for reconciliation among all the warring parties. He called this "engaged Buddhism." Martin Luther King Jr. nominated him for the Nobel Peace Prize, and he led the Buddhist delegation to the 1969 Paris Peace Talks.

This is one of the gentlest programs we've created, and one of the most far-reaching and practical in its effect — if e-mail correspondence is taken as a guide. I hope that you find courage, as I do every time I listen with fresh ears, in this program's reflections on spiritual "technologies" for lived compassion — even in the face of wars of terror and the everyday anger and fears inside us.

The morning of our conversation, I listened to Thich Nhat Hanh deliver a three-hour meditation and teaching. He sat on a stage before hundreds of people. He spoke first to the children and then to the adults. A small, radiant figure in his seventies, the intensity of his teaching didn't flag; but I saw him grow physically tired. Our interview was to take place late that afternoon. To "interview" this man felt presumptuous. He is one of the softest-spoken personalities I have ever met and one of the most powerful. His power is physically palpable, but it is not about physical strength. It is a vigor of presence.

I realize as I write that I'm struggling unsuccessfully to describe a quality about this man — his holiness, for lack of a better word, which in fact eludes the neutral terms journalism calls for. I'm inclined to look at religious traditions as bearers of critical questions and necessary insights.

As we create Speaking of Faith, I'm always walking a line — sometimes dancing back and forth across it — between being a journalist and being a spiritually curious person. Thich Nhat Hanh, Brother Thây, is a teacher of the first order — a teacher of life as well as thought — and it is hard to be in his presence and not feel oneself a student. Interviewing him, I settled into that part of the journalistic enterprise that is about opening oneself up to learning.

Thich Nhat Hanh combines spiritual ideals with earthy realities. He takes the Buddhist commitment to "mindfulness" out of the realm of ritual, and transposes it to everyday acts — washing dishes, walking, being with one's children. As he teaches it, the basic act of focusing on one's breath, of feeling the mind move back into the body, is immediately effective. A change occurs, an instant restoration, a kind of recollection of self. But this is a recollection that happens only one moment at a time. It is an exacting, rewarding discipline of living in the present, which we attempt in our culture with so many methods both to achieve and avoid.

Actor and Presbyterian minister, Linda Loving, once used a compelling phrase in conversation with me: "the simplicity that lies on the other side of complexity." She was referring to the writings of Julian of Norwich, a mystic whose observations and revelations have endured across centuries. I suspect that Thich Nhat Hanh's teachings, embodied in his terse poetry and compact books of meditation, will also endure over time. His essential messages are so beautifully simple on some level — like his basic premise, taken from the heart of Buddhism, that if we face the suffering in ourselves, we will become compassionate towards the suffering of others and we will be able to break cycles of violence in the world.

But Brother Thây isn't about beautiful ideas. Precisely because of all he has lived through — the violence he witnessed and suffered in his native Vietnam — his gentleness has a profound authority. Over a long lifetime he has refined and embodied practical spiritual technologies for living simply and humbly with complexity.

It is a miracle — a testament to "the miracle of mindfulness" — that Thich Nhat Hanh emerges from his experiences proclaiming that we must all aspire to feel "fresh, solid, and free." For an afternoon, in his presence, I felt that way too.
I Recommend Reading:
The Long Road Turns to Joy: A Guide to Walking Meditation
by Thich Nhat Hanh

I discovered this tiny book while creating this program. Walking meditation is part of Thich Nhat Hanh's life at Plum Village in France and at every retreat he conducts. This tiny book is in fact a brief, inviting introduction to his way of being in the world. It consists of short meditations, poems, and engaging photographs of Thây with his community and students. He is often holding the hand of a child. It embodies the simplicity, humility, and wonder of Thich Nhat Hanh's teachings.


"Walking Meditation with
Thich Nhat Hanh"
During a previous airing of this program, one of our producers happened upon Tess Gallagher's delightful book of poems, Dear Ghosts, and discovered a poem about Gallagher's experience with Brother Thây. She elegantly puts into verse her experience of practicing mindfulness while at Deer Park Monastery.