Nowhere near where I live is there a Shinto shrine. The closest thing to one are various Japanese cultural centers, but even those are Buddhist based. The one here in Louisville is a Soka Gakkai based center. The closest actual shrine is the Grand Tsubaki Shrine of America a continent away in Granite Falls, WA.
Ever since I learned of it, I have longed to go.
I still have not been to the shrine in Granite Falls, but a twist of fate allowed me the opportunity to visit the Hawaii Kotohira Jinsha/Hawaii Dazaifu Tenmangu while on a field biology excursion in Hawaii. It was a highlight of my trip and had the entire trip been a disaster, this one event would have made the whole thing worthwhile.
I have no community here. Most people here have never even heard of Shinto, and are suspicious of it. I practice alone, pray alone, celebrate festivals alone. I long for a sense of community and people that understand. I think deep down I want that more than anything else.
It was truly an experience to go to a plae where the primary langauge heard spoken other than English was not Spanish, but Japanese... where I bowed to people out of instinct and they simply smiled and bowed in return. I was not regarded as a curiosity or a freak. I did not make people uncomfortable with my actions, nor was I treated like I was a cultural tourist. They understood. And it made them happy that I understood them.
In that moment, I saw a glimpse of home. I, for the first time ever in the history of my life, honestly believed that there is a place on this earth where I belong, where I can feel at home. Hope surged through me that I can have a community, a family, a place in this world. It is an experience that everyone should be able to have, even just once. It is a life-changing and world-changing event to know you are truly not alone. It is liberating to know at last that you are not the last of your kind.
My visit was very short, and most of the shrine was closed, but it was nonetheless thrilling. I couldn't believe how tense and nervous and excited I was about going. It has been a long time goal of mine to visit a shrine, and now I finally have. I didn't have long, because there was a van of biology students waiting on me.
I went in, prayed briefly, picked up a bunch of omamori, and while I was about to leave, I saw something unexpected. I turned to bow to the alter as I was leaving, and as I did, I saw a kamidana in the corner with a price tag. I asked the priest if it was really for sale, and he told me he keeps a supply for his members, and that occasionally tourists buy them. I bought it without a second thought. And it was only $25.
I now have a real, consecrated kamidana of my very own. I have wanted one for a very long time. You should have seen me with it on the trip home. I never let it leave my hands. I refused to even pack it because I was afraid something would happen to it. One of my professors has a picture of me in one of the very few moments I slept on the plane, with my arms wrapped around the box and my chin resting on the top, the box clutched to my chest.
It is now the single most valuable thing I own.
Outside the Hawaii Kotohira Jinsha/Hawaii Dazaifu Tenmangu in Honolulu, HI, just off the H-1 on Olomea St. It is a shrine with two names because it has two root shrines in Japan. The suffixes -jinsha and -gu can tell you what kind of shrine they are. You can find the root Kotohira Shrine here and the root Dazaifu Tenmangu here.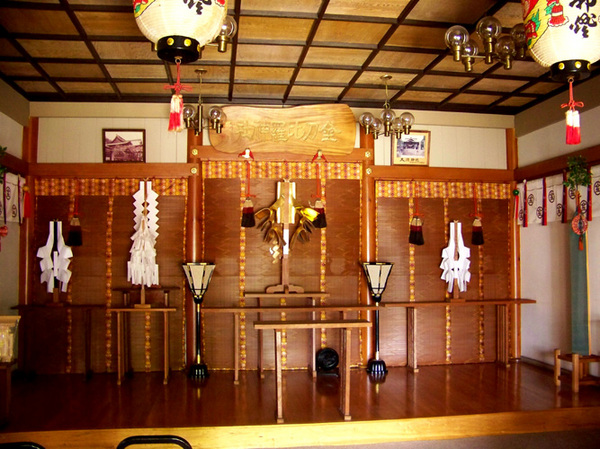 The inside of the shrine at the haiden, or hall of worship. The hall had chairs, and seiza was not necessary. The sanctuary containing the honden (structure where the kami is enshrined) was closed, and I don't think this particular shrine had a heiden (hall of offerings).
My cherished, treasured kamidana. I have pine candles burning to either side and three sticks of traditional aloeswood incense burning in front. The feather is a redtail hawk feather, used to represent the Tengu. The traditional white porcelain dishes and vases will all come in the not to distant future. I will be creating a shintai token for Inari to be placed inside. My complete altar will have three kamidana: a large, centra one for Inari and two smaller ones on each side for Benkei to Yoshitsune and Kannon.