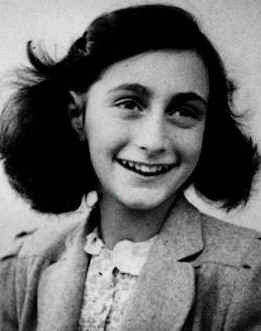 Photo courtesy of Wikipedia
Anne Frank has been on my heart for the last 24 hours, and I wasn't quite sure why.
She was someone I looked up to as a girl (and still do), and, amazingly a year or so ago, a bookstore that was going out of business was selling a copy of "The Diary of a Young Girl" for a greatly reduced price, so I purchased the book. I was thrilled to find it, as my copy disappeared many years ago.
I feel this is a book that a young person, or someone older must read. I also grabbed it because it is one book I would like my children to read when they are a bit older.
I knew I wanted to write a post about Anne, and, my reflections on her life, and, as I skimmed the book to prepare for this post, I realized the importance of writing about her now: August 4 was 67 years to the day that the Gestapo raided the "Secret Annexe", and took Anne, and the seven other residents of this Amsterdam hideaway, to Nazi concentration camps.
With accounts that I read over the years, the Nazis were, first interested in dehumanizing the Jews by seizing them, and either taking them to camps for death, or excruciatingly hard labor. And then, moreover, they robbed these Jewish families of anything of financial value that they may have had; from cash to jewelry to valuable paintings, these Nazis did nothing but steal and destroy – just like in John 10:10 - "The thief comes only to steal and kill and destroy; I have come that they may have life, and have it to the full."
But on August 4, 1944 as they led the Frank Family away, there was something very valuable that the Gestapo overlooked, and left strewn on the floor, as to them it looked like nothing but worthless sheets of paper: Anne Frank's diary.
The testimony of a girl, who kept record from the ages of 13 through 15, of the tyranny the Jews were subject to, and the humiliation they endured.
The Nazis were beautifully ousted by the most important evidence against them: the truth.
What is hysterically and simultaneously laughable and pathetic are the attempts over the years to debunk testimonies like Anne Frank's. Unbelievably, there were guilt-filled individuals claiming the diary was a forgery, and Anne never existed. Others claimed Anne's father created the diary. Eventually, they located Karl Silberbauer, the officer who arrested Anne Frank's family, and he confirmed he was the one who arrested them, and he specifically remembered Anne. Silberbauer even confirmed dumping paperwork on the floor in a briefcase…most likely Anne's diary and her stories.
To boot, the diary was verified as authentic by groups, and courts, that have performed forensic studies, and lawsuits persisted against groups and individuals claiming it is a fake, and challenging it. The defendants in the case have had to serve jail time, and pay hefty fines for their assertions that the diary is bogus.
That, combined with other nonsense out there disputing the occurrence of the Holocaust overall is absurd.
I was actually taking photographs at a parade for one of my publications when a woman, who was handing out pamphlets for a Catholic Church handed me one. The pamphlet had all sorts of statements, including an allegation that the Holocaust never happened. In whose imagination is that?
There is enough hard evidence that it did exist, including the people who, to this day, whether Jew or German, can attest to it. I have met a number of concentration camp survivors,such as Eva Brown (formerly Rosenfeld), who gives her tattooed number: A17923 on her website. Her book is incredibly written, and the vivid details of what she endured, so shocking.
In my own family, one of my family members was also a survivor who bore her own tattoo. I never saw it, but heard about it from my father. This woman was the sweetest, kindest, most huggable and huggy person you could meet. I met her as a little girl, and she just took me into her arms, and embraced me with one of the warmest hugs I ever experienced.
My relative survived because she could sew; Eva Brown learned to shave the beards of Nazis at Auschwitz.
And there are many other stories.
But Anne Frank is probably the most prominent.
I was blessed at 15 years old to see where Anne Frank lived those two years in hiding in Amsterdam. It was an attic portion of the building above the office and warehouse of the company that her father helped to manage. Four of Otto Frank's colleagues helped to conceal the family, as well as another family of three, and another gentleman. Helping the Jews was a "crime", punishable even with a death sentence.
It was amazing for two years they lived in an atmosphere where, most of the time, they could not speak above a whisper. During the day, they also could not flush the one toilet the eight of them had access to, did not have a shower and took sponge baths, and simply, were not allowed to step outside of their three floors, let alone outside – period.
Anne's diary chronicles these days, and there are a lot of ironies in there. She wrote:
"Bolkestein, an M.P., was speaking on the Dutch News from London, and he said that they ought to make a collection of diaries and letters after the war. Of course, they all made a rush at my diary immediately...But seriously, it would seem quite funny ten years after the war if we Jews were to tell how we lived and what we ate and talked about." – Anne Frank, March 29, 1944
There are other poignant passages, especially when Anne described the fear she had for fellow Jews, who she had heard on the radio, were headed to concentration camps, and facing death.
What is interesting too is Anne's view on religion. Although Jewish, Anne, like her father, was not very Orthodox. Her mother, Edith, and sister Margot, on the other hand, were very devout. Anne writes plenty of passages about God, and even has a notation in there about Jesus Christ. I think she was spiritual, and not necessarily religious or legalistic, which may have helped her in many ways, especially as she endured the further horrors of the concentration camps.
She was wise above her years, as she asked herself these questions.
"Who has inflicted this on us? Who has made us Jews different from other people? Who has allowed us to suffer so terribly up till now? It is God who has made us as we are, but it will be God, too, who will raise us up again. If we bear all this suffering and if there are still Jews left, when it is over, then Jews, instead of being doomed, will be held up as an example."…"Be brave! Let us remain aware of our task and not grumble, a solution will come, God has never deserted our people. Right through the ages they have had to suffer, but it has made them strong too; the weak fall, but the strong remain and never go under!" – Anne Frank, April 11, 1944
When Anne Frank was seized after the inhabitants of the "Secret Annexe" were turned in to the Gestapo by an anonymous informant, like Eva Brown, Anne Frank had a stint at Auschwitz, only a few months later after Eva. Anne's head was shaved, and she was tattooed. Anne was a spirited girl, who tried to remain positive. Eva Brown tells in her book how the Nazis preferred an upbeat attitude from their prisoners, and she would act that way as well, and even would take drops of blood from her fingers, and place on her cheeks so they appeared flush, and more lively.
Anne, her mother and sister were kept at Auschwitz, and her father, sent to the men's barracks there. Witnesses who spent time with Anne there said she assumed her father was sent right away to the gas chamber. When others saw Anne break down into tears especially, it was when she saw small children being led to the gas chambers. Otherwise, she tried to appear "up", and she was rewarded with extra food rations, which she shared with her mother and sister.
She joined the other women in hauling rocks and digging rolls of sod. Her mother fell ill and gave her bread rations to Anne and Margot. The mother died of starvation, and Anne and Margot transferred to Bergen-Belsen, and both succumbed to typhus in early March 1945, less than two months prior to the liberation of the camp by the allies in April 1945, and only a few months shy of Anne's sixteenth birthday.
"I want to go on living even after my death!" Anne Frank declared to her diary, which became a friend-like confidante to her, and she named it "Kitty". She wrote these words on April 4, 1944.
As I read this passage, I can't help but cry, because she reminds me so much of my younger self, and the dreams she held in her heart are like mine (not to mention, like Anne, I love genealogy research, history, and cinema stars (Old Hollywood especially – more in her era and slightly later)…
I can so relate to her writing, because of the nature of my work now.
Only written less than a year before she died, Anne affirmed, "I must work, so as not to be a fool, to get on, to become a journalist, because that's what I want."
She writes about her stories, and critiques her own works in her diary, and recognizes her talent, yet said, if her work wasn't acceptable enough for newspapers or books, she would simply write for herself, and the sheer joy of it.
"And therefore, I am grateful to God for giving me this gift, this possibility of developing myself and of writing, of expressing all that is in me," Anne continued.
"I can shake off everything if I write; my sorrows disappear, my courage is reborn. But, and that is the great question, will I ever be able to write anything great, will I ever become a journalist or writer?" Anne asked.
With tears in my own eyes, I must reply, "Anne, you accomplished your dream, you reached your goal."
At an age when she hoped she would be writing as an adult, Anne accomplished this as a child, and became a journalist – as she reported the happenings of the current world at that time, as well as the world she was living in...that is truly what a journalist does.
As far as I'm concerned, Anne Frank's young voice, which is so mature for her age, is one of the strongest and most powerful of the last century, and I hope, continues to lead into this one and well into the future.
I pray no one forgets Anne Frank. And thankfully, her diary was released; Miep Gies, one of the guardians who concealed the Frank Family, kept Anne's diary in her desk drawer, and gave it to Anne's father. She said had she known the content (she never read it), she probably would have destroyed it, as it would have been incriminating evidence pointing to those who aided the Franks, including herself. Anne'a diary has been published in many languages, and time and again since 1947. So have her short stories.
If I could ask a question back to Anne it would be, "Anne, who DOESN'T know who you are?" Even Eleanor Roosevelt provided the introduction to Anne's book.
As a journalist myself, I know how powerful the written word is. William Wordsworth wrote, "Fill your paper with the breathings of your heart."
That is exactly what Anne Frank did, and she breathed life into each page, capturing millions of hearts over several generations, and connecting them with her's, including mine, with her written account.
And I believe her story will only continue to do so.