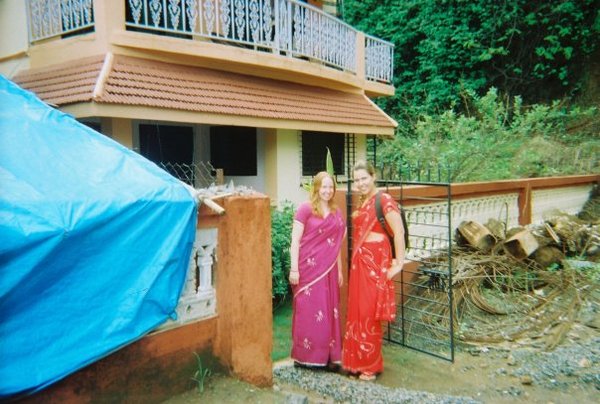 One day Chitell (the woman who cooks for our house) invited me to go to the market with her. Walking through narrow streets and small alleys, an outsider could easily get lost. We reached what she called a supermarket and I found myself inside a large store that was filled with many different home items (such as dishes, purses, and clothing).
A unique thing in India when you go shopping is that vendors are willing to take clothing out of their plastic bags so you can get a better glimpse at what you are purchasing. The salesman unfolded about 15 saris to show Chitell, and after bartering the price, she purchased a beautiful light green sari for her sister.
Many women in India wear saris and can look extravagant every day without being aware of it. The outfit is made up of three parts; the skirt, the top that covers your shoulders, upper arms and chest, and finally the sari cloth that is wrapped around in a delicate and specific way. No western woman should attempt to wrap a sari herself without first being taught by an Indian. And wearing one in general should be done with reservation as Indians can sometimes think western women in Indian-style clothing is not always welcomed or flattering. I wore saris, but only when I went to villages to work, as it was prescribed by my coworkers. However, once caution is met, western women should enjoy the beauty and comfort that wearing saris can bring!