The Coenaculum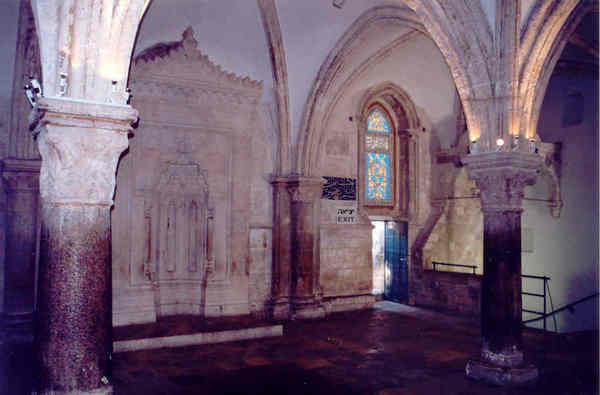 Wikipedia defines "Coenaculum" as an "eating room of a Roman house in which the supper (coena) or latest meal is taken. It was sometimes located on an upper story, and reached by an external staircase." Sure enough, a visit to the Coenaculum (on Mt.Zion, right outside the OldWalledCity in Jerusalem) means you'll find yourself climbing an external staircase to reach the entrance to a large room.
The structure housing the site where Jesus broke bread with the apostles the last night before he was betrayed, is still intact today although it's passed through several hands (at one point it was converted into a mosque, reason for which you'll see Arabic writing on some of the walls.) To the left of the entrance into this main room is a bronze statue of an olive tree which Pope John Paul II erected in commemoration of his visit to the Holy Land in 2000.
Whether you visit the site alone or with a guide, you'll be allowed to enter into this large main room (only), which is where the Last Supper is widely accepted to have taken place. HOWEVER… there's an interesting theory floating around that the real room where Jesus broke bread is actually a smaller room off of this larger, main one. Reasons for this new theory are out there but at the moment I don't recall what they are. They were enough to pique my curiosity during a third trip to Jerusalem in December of '04.

During that visit, I walked into the main room as usual. There are 3 metal doors leading out of the room (in addition to the one through which you enter and exit). I must have spent at least 15 minutes trying and re-trying these 3 doors, but they were all locked. I stood in the middle of the room and visualized which door might lead to the "real room". I insisted on trying to open each door to see what was behind it. No luck, all locked.

My husband and I then walked over to the young Israeli who was guarding the main entrance. He was sitting behind a desk looking bored, gun by his side on the desk…we could see he was engrossed in drawing something with a pencil on paper. When we got closer, I laughed to see it was images of a gun, over and over and over again. He was basically just doodling…but the subject of his "artwork" was so incongruous with the place itself, it made us chuckle.
I asked him if he could please unlock the doors to the other rooms. He swore to us that he didn't have the keys to those doors - some other security guard did - but he knew what we were after. He knew we wanted to see the alleged "real" room of the Last Supper! Yes, he knew all about it and why some believe it didn't take place in the popular main hall but rather, in one of the smaller rooms….and he agreed that the idea seemed plausible. But then he also offered his own opinion that the rooms in question - any of them - might all be too small to have housed upwards of 15 people - though he hadn't actually seen them himself.
It was a tantalizing theory for sure, and I was reluctant to leave without having at least gotten a glimpse into those other three rooms - as though by merely looking into them I might be able to miraculously discern whether or not a group of Galileans actually broke bread in there during the Last Supper (versus the larger main room.) Seeing how I was unable to hide my disappointment about not being able to investigate said rooms, the young security guard finally ended our conversation by telling me in a very matter-of-fact way, "I'm sorry I can't help you. But you know what? Seems to me that if this main room is good enough for the Pope, then it should be good enough for you!"
(Hmmmm…be that as it may, I'm still curious. If anyone out there has seen any of the smaller rooms off this main one, please drop me a line and let me know what you thought. Thanks!)