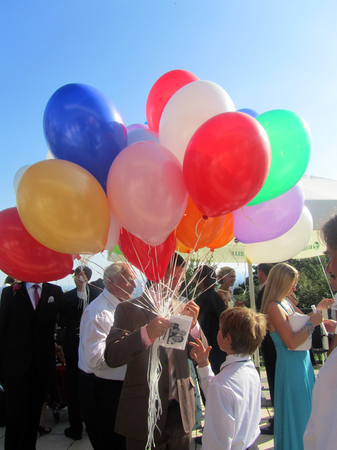 We can always be happy, like children to receive a balloon...
and to choose our favorite color..and when we can learn to have this
same joy, like of a chilld for the simplest things..and to be thankful to God
for each new day + blessing that He gives to us the same in the beauty
of all creation, then He will continue to bless us all the more!!
This photo was of my son accepting a balloon, when in truth he ended
up later on with several....but, sadly many were taken from him by other
visiting guests of this wedding feast.
When we receive a blessing, we must hold fast and protect it with all
our worth because God is waiting with open arms to give us so many more
things too... and nothing on this earth can separate us from either those
blessings or from His great love that He will never withdraw His loving care
that is promised when we but remain steadfast in our faith, thankfulness + trust!
I hope you are enjoying the wonders of this summertime + the many blessings promised to us of God's eternal love!
Sincerely,
Theresa Marie