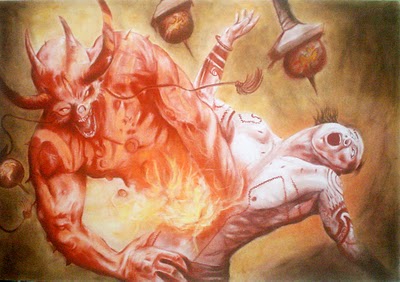 Do you believe in exorcism? Exorcism in this day and age are on the verge of extinction. No one, religious or lay, would like to acknowledge that fact that Satan is alive and well, tormenting souls. Many religions do not believe in possession, and many are afraid to believe that it can occur. The religions that do believe in and practice exorcism: Judaism, Christianity, Islam, Buddhism, and Hinduism.
FEAR is Satan's dear friend. When someone fears Satan, Satan has power over them. The religious clergy fail to realize that Satan's biggest fear, more than exorcism, is confession. A priest who preaches, and hears confessions should not be afraid to be an exorcist. To not use the powers of exorcism that Christ has given, is direct betrayal of His command.
A boy named Robbie Mannheim had exorcism performed on him as a teen in 1949. He was the inspiration for the 1971 and 1973 horror film, "The Exorcist."
Even Mother Teresa allegedly underwent an exorcism late in life after the Archbishop of Calcutta noticed she might be possessed by evil because she seemed agitated in her sleep many times.