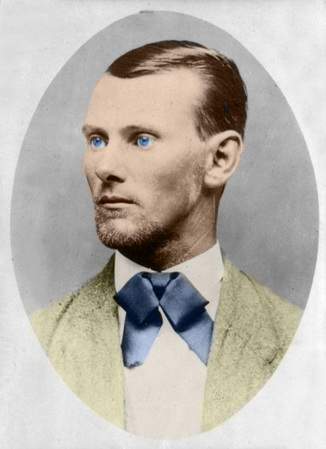 JESSE JAMES.
William "Billy the Kid" Bonney
Jesse James was an American outlaw who was very famous who died on April 3, 1882 [some 89 years ago] when he was only 34 years old. Officially we know that he was murdered by his partner Robert Ford. However, some people doubt that Jesse James died, but whether feigned his own death to be able to escape from his pursuers, they also say that the picture where Jesse James appeared dead in his coffin that doesn't belong to him.
Apparently, a judge from Missouri gave orders to exhume his remains from the tomb. On July 18, 1995, they removed some identifiable remains in order to make a DNA test. Results showed it was Jesse's body. Another DNA test in early 2010 said it wasn't!
All this, also has to do with William Bonney, aka "Billy the Kid." History says he feigned his own death at the hands of Pat Garret and that Billy lived to be almost 0 years old. Wonder if his remains were to be exhumed would they find anything unusual and interesting?