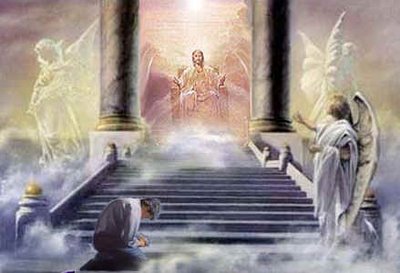 The end times have come to a close. God's chosen people were taken to heaven before the 7 years of diaster was to begin. Then the last day of those 7 years has ended. Those who survived are waiting for the angels who will be at the 4 corners of the earth ready to be taken to heaven.
Now, the unbelievers wait on the outskirts of heaven's walls to be called in before the Great White Throne of God with Jesus by His side. God reviews your entire like in a matter of a very short time...in seconds.
BUT WAIT!!! God feels good today [a day to Him equals 1,000 earth years.] God announces to the millions of people waiting...."I your God am still mercfully and I still love you! I will make you an offer YOU can't refuse. You may pick your own punishment. Something you hated to do more than anything else while you were on earth. You will do that one thing over and over for all eternity rather than be thrown into the Lake of Fire."
The unbelievers applaud God. God says, "While you decide, I have someone to judge first [a pause] Satan. Satan...[in the language of Dirty Harry], Do you feel lucky?" Hot tears flowing down his face. God speaks again, "Well! Do you, punk?"
Satan says [in the language of Dirty Harry], "Go ahead! Make my day!" In the wink of God's eye, Satan and his demons enter into the Lake of Fire!
The believers didn't believe Jesus would come back the second time. Jesus did say he'll be back! Even the Terminator said he'd be back! Now, my question to you...the above is fictional, and if God did give you the chance to choose your own punishment in the way described above, what would you choose?