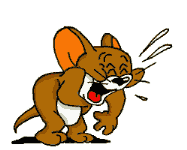 DO CHRISTIANS HAVE A SENSE OF HUMOR?
Does Christian humor turn you on? If it doesn't, maybe its not funny enough! Christian humor is simply "clean jokes", "clean humor." Maybe that's the problem.
For example:
Be nice to your kids, for it is they who will choose your nursing home; God answers Knee-mail; The best vitamin is B1; Try Jesus. If you don't like Him, the devil will gladly you take you back; Where will you be seated in etrernity? Smoking or non-smoking section?; Since God gave us 2 ears and 1 mouth, He must have wanted us to do twice as much listening than talking; If God is your copilot-you're in the wrong seat!; Yes, God loves us all, but He favors "fruits if the spirit" over "religious nuts"; When you pray, don't give God instructions. Just report for duty;
1 cross + 3 nails=4 given; How do we know that men, not women, made the best coffee in biblical times? Answer: It clearly states that He-brews; Why couldn't they play cards on the ark? Answer: Because Noah was standing on the deck; Which man in the Bible was the most flagrant lawbreaker? Answer: Moses. He broke all 10 commandments at once.