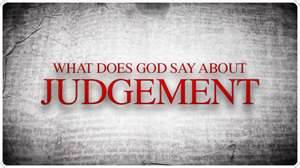 When you pass away, the next step [after your soul and spirit goes back to God. What does He do with them? Do you sleep or are you put into suspended animation till the day all humanity are judged before God at the Great White Throne? Will Jesus judge us also?
Each person will be judged on what they have done or God and His Son Jesus. If each and every person will be judged seperately, how long of a process would it take? Keep in mind there are billions and billions of people from the days of Adam and Eve to the present. What does God judge you on? Will those waiting to be judge witness you being judged?
Think about this, how many years [for the sake of this question] to be judged? Imagine you are behind Hitler waiting to be judged. Hitler has 6+ million persons to account for plus himself. It will be a very time before its your turn.
When God hands down your sentence, you...not knowing what the answer will be would probably fear the worse, like this photo
Don't be caught off guard...repent of your sins NOW.