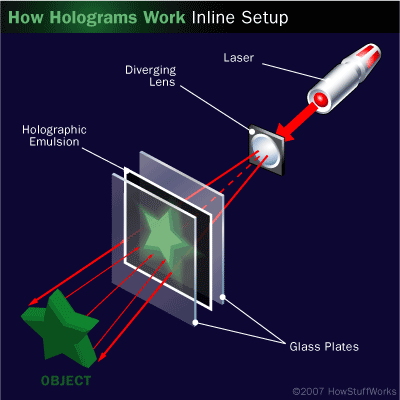 What is a hologram? First the picture...
Here's a far out thought-is the hologram how God perceives reality [including us and the earth and our universe] ?
Second, what is a hologram? A hologram is the intermediate photogtraph [or a photograph record] that contains information for reproducing a 3-D image by holography. What is holography? Holography is the branch of optics that deals with the use of coherent light from a laser in order to make a hologram that can then be used to create a 3-D image. See image below:
So, who would be operating the equipment to produce another universe? Its no secret that space will be expanding for all eternity. Someone in this other universe is the only universe in existence and they are producing us by way of a hologram as well as the earth and our universe for whatever reason, known only to them! Would that mean that possibly heaven and hell are holograms too if those in the other universe have produced them as well?