December 21, 2012 a big day or everyone everywhere! That's all people will talk about the day before and the day itself. People will party like there was [or is] no tomorrow. They talk about some of the things that will happen.
People will discover after all is said and done...were they the ones 'left behind'? Or will God's hand reach down to earth from heaven and snatch the rest of the good people?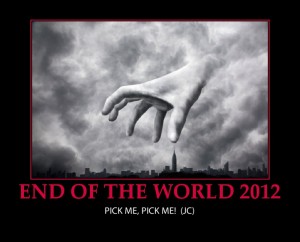 There's one thing the Myans forgot to figure in the calendar prophecy. Can you think of it? They didn't figure in the leap years that we have in our calendar. The leap year segments were not in existence back when the Myans were in existence. That alone throws the whole calendar off course. We now don't worry about the current date. There's 10% of the American population who actually believe the 12-21-12 date. Must be the non-Christians because we Christians know thatonly God knows the exact date!!!
Yet some people can't help but ask...