Why were the gangsters of the 1920s and the 1930s of the Catholic faith or were Catholic when it came to marrying and getting baptized in the church, raising their children Catholic going to schools and other activities.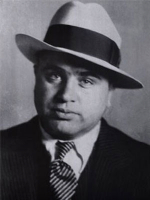 Al Capone was the most famous of them all. He was well dressed and well liked by hundreds maybe even thousands in and around Chicago and surrounding areas. He helped them out when the government couldn't. Wonder if they really were religious in spite of them killing people and having businesses like they had. When they stand before God, what will be their excuse?
Sure they gave hundreds even thousands of dollars to the church for whatever they used it for. Some priests were friendly towards certain gangsters. Perhaps God will have a nice warm reception waiting or them.