My former college roommate is coming east from California today for a 10-day visit. The first stop on her itinerary – an overnight with me! I haven't seen her for years and I'm so excited I just can't wait.
But I'm a traveler and I know that air travel is rife with schedule changes and delays. So I suggested to Katy that she send her flight information so I can track the flight, which she did.
I almost fell over when I saw it. She leaves California at 11 AM and, taking into account the three-hour time difference, arrives in DC at 7PM Eastern Time. That's a seriously long flight.
And goodness know who she'll be sitting next to, or in front of … .
I find that on long flights, I'm generally seated very close to a baby who, inevitably, howls through part, if not all of the flight. Y'know what I mean? But maybe Katy will get lucky and have an experience like I did, which will make her forget all about crying babies; old, smelly ladies; etc.
I can't believe I forgot to share this with my readers. On the trip to Florida from DC a few weeks ago, I had a one-of-a-kind encounter. I'll never forget it.
After boarding the Boeing 717, I put my carry-on item – a backpack – into the overhead compartment above my seat. For the record, Boeing 717 planes have three seats on side of the aisle and two on the other. Accordingly, the overhead compartment is deeper on one side. I was seated on the plane's "three-seat" side.
At some point, the flight attendant asked me if she could move my bag to the two-seat side to make room for larger pieces.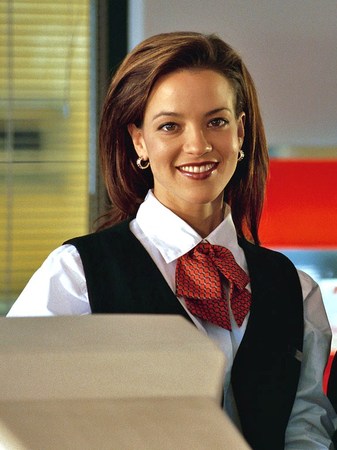 Not a problem, I said, thinking it wouldn't be.
Epic fail.
So she took my bag and moved it to the smaller side. Then, she took another bag and shoved it on top of mine. In a moment of surprise and distress, I said, "I agreed to let you move my bag, but not to manhandle it."
She replied with something along the lines of, "I'm not doing anything to your bag."
Me: "How can you say that? How do you know what's in my pack? Maybe there's something fragile in there that you just broke handling it so roughly. Did you think about that?"
Her comeback: "C'mon. I didn't break anything in your bag."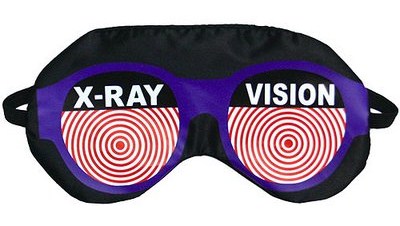 Sweet! The only way she possibly could have known that she didn't break anything in my bag – every compartment of which was fully zipped – would be if she had x-ray vision.
You know what that means? It means I met Superwoman! She does live! Awesome!