With students in Virginia slated to return to class in about a month, everything is about "Back to School." And to help parents outfit their progeny in the latest fashions, Virginia is hosting its annual back-to-school sales tax holiday. The tax-free weekend ends tomorrow. Exempted from Virginia's 5% sales tax are school supplies priced at $20 or less and clothing items priced at $100 or less.
Keep in mind, of course, that you need not be going back to school to take advantage of the opportunity to shop tax free. That describes me. I have no kids going back to school – I have no kids – and neither I nor Gary is resuming an in-class education in the foreseeable future.
But I still plan to shop.
Specifically, what I need is a new bathing suit – and fast. The adorable polka-dotted one-piece I bought for our honeymoon six years ago is all but threadbare in places where I can't afford to have it be so. My other, equally festive maillot is also experiencing "technical difficulties." And in less than two weeks I'm vacationing at the beach with my parents. Not the place where I want to "make a statement," if you know what I mean… .
So it's off to the mall for me tomorrow to find a suitable, tax-free replacement.
I have to admit, I wasn't sure a bathing suit was going to be tax exempt, because it's not exactly "back-to-school" clothing. It's not even really clothing, but that's a discussion for another time and the hour is getting late… .
So I checked the Virginia Department of Taxation's official list of exempt items. Sure enough, bathing suits were on it. As were leg warmers; girdles; wedding apparel, including veils; athletic supporters; fur coats, lingerie, clerical vestments and rubber pants, among other items.
????????
I'm getting quite a kick out of envisioning some youngster returning for another year of education four weeks from now in her new uniform: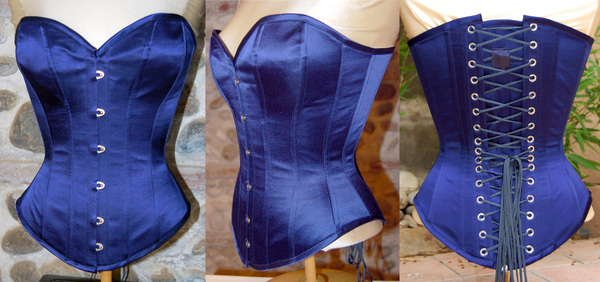 A corset and steel-toed shoes under a choir robe.
Now that's what I call "Kickin' it old school."