Now I know what makes grown men cry.
The sight of a 1,200-pound behemoth within inches of your face while you are quietly minding your own business in the ocean will do it every time. No, it wasn't a shark or an alligator. But it might just as well have been. The fact that it was a gentle giant didn't placate me at all this morning when I came all but nose to nose with an adult manatee while snorkeling in the Atlantic.
About three minutes earlier, a man standing some 200 feet away from me had yelled, "Manatee!" But I thought to myself that he must have been mistaken. I mean manatees don't hang out at beaches. Epic fail there, I'm afraid.
So I continued snorkeling and all of a sudden there was this ginormous black hulking mass bearing down on me.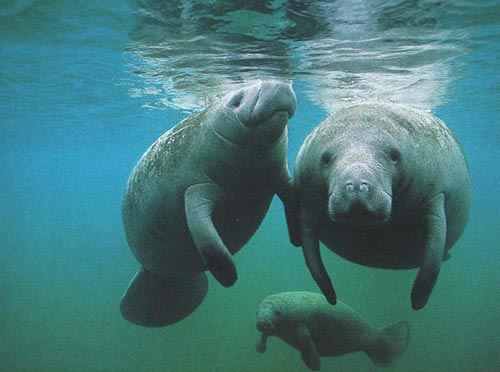 Now I'm a city kid – born and raised in New York – and I currently live in the Washington, DC area. Let's just say that I'm not accustomed to being within arm's length of swimming black hulking masses.
All kinds of thoughts – none very happy – ran through my mind as I clumsily attempted to get away from it, shrieking at the top of my lungs all the while: "Oh my God, it's going to bite me/maul me/kill and eat me...."
When I successfully got out of its path and it turned around and lazily proceeded back from whence it had come, I realized that all around me young children were laughing.
Fine, mock my terror and anguish if you must... . All I could think was how relieved I was. "Holy cow," I thought, "I am so lucky to have escaped that terror of the deep!" Holy sea cow, that is.