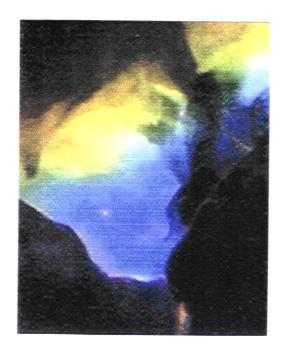 The Chaos Page
Out of chaos came order;
Out of nothing came something;
Out of something life appeared.
That is the evolutionist's creed.
Creating life from nothing, or evolution, has never been duplicated and never been proven, but it dominates much of the scientific community and secular education. A so-called simple cell, which is not simple at all, with its complex DNA somehow came to exist from chemicals. But where did the perfect mix of chemicals come from? And how did inert chemicals produce cells, DNA and the building blocks of life?
The answer is supposedly time. Massive amounts of time can supposedly create the possibility of evolutionary chance arrangements and the creation of life. But how can an inanimate object create anything? Time does not move; it does not breathe; it does nothing. Yet somehow massive amounts of time created conditions ripe for the creation of life.
Doesn't it make much more sense that a divine designer, God, created this universe? His loving hand can be seen in a bumblebee which should not be able to fly according to engineers. His loving hand can be seen in the innumerable stars that seem to have no purpose but which balance our solar system perfectly in its place. His loving hand can be seen in the workings of the atom which is held together by some unknown source. The heavens declare his glory and acknowledging him, his son Jesus Christ who died for our sins and the person of the Holy Spirit will bring the peace and rest we all long for.