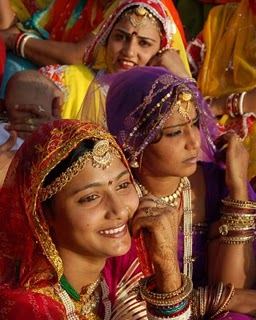 "Latcho Drom," ("Safe journey" in the Rom language) is a musical odyssey, the story of the Gypsy diaspora. It follows the trail of the Gypsies from their oldest known homeland, the Rajasthani Desert in northwestern India, through Egypt and across the Mediterranean to Turkey and Rumania, then westward across Europe to Spain's Atlantic shore. Filmed in all these locations in the early nineties by Tony Gatlif, it was for a short time available on DVD, but now is once again only sold on videotape. At the moment, Amazon has access to several sellers vending used copies of the tape for reasonable prices (around $60).

Although the whole movie is an education, I found the most exciting parts near the beginning, where families of nomadic herders with goats, camels, and donkeys, carry their few possessions through the desert in carts and barrows. Precious-metal wealth they wear as they glide over the landscape, still finding time and an inclination to celebrate their lives. This is a purely tribal and almost completely illiterate society, whose songs, stories, instrumentation, and dances are transmitted orally from one generation to the next, and necessarily learned by rote.

Memorization for permanent retention and recall is a powerful learning tool, and underestimated in literate societies where written records have made it obsolete. It empowers learners to absorb and then transmit information with strict attention to the tiniest details, as these three young women have obviously done in learning the words, the timing, and the accompanying choreographed movements of the traditional tribal song they perform here near the beginning of Gatlif's movie.

Understandably, learning by rote has a bad reputation among educators nowadays. But it would be a mistake to underestimate the power and beauty of what was for thousands of years the one indispensable tool for learning and the transmission of civilization and civilized values, and is still, among obscure people in a few remote and barely accessible places, a family tradition.
--Db