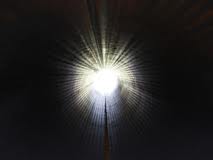 For years, now, I've been holding on to the small fragments of memories I still have from the greatest trip I've ever taken. When I first returned, every detail was intriquitely pressed upon my mind. As the years have passed, however, something has happened that I don't understand. My beatiful pictures I once had to look back upon seem to have been locked away somewhere in my mind & I cannot retrieve them anymore; only bits and pieces. I would think that something as profound as a near-death experience would be something you'd never forget. I know having it happen to me changed by beliefs from being slightly skeptic to knowing beyond the shadow of a doubt. But why have they almost disappeared? It's as if they've been locked away in a filing cabinet and I don't have the key to open it.
Before the NDE, I was in CriticalCare Unit of the hospital with what I was told a severe case of an unknown type of pneumonia. My body was not reacting to the antibiotics & my system was shutting down. I can vaguely remember the doctor coming in and telling my family and I that he was going to do a biopsy of my lungs and would be taken into the operating room shortly. I remember being strapped down to the table and the feeling of fear overcoming me as I fought to breath laying there.
As I looked up to the ceiling, I remember an amber colored square doorway being above me. There were engravings and symbols I had never seen etched upon it. Then, I remember traveling thru blackness. Picture yourself sitting down in a seat and then being launched into the night sky. I felt as if I was sitting in a seat and traveling thru the black void seeing countless stars lighting my path. I remember passing the solar system as if it was of a scaled down version to my right. I was thinking to myself, "Why am I not feeling scared? I'm traveling thru this black place, yet I feel no fear at all?" Although there was parts of the ascension that contained the planets and stars, in the parts I call void, there was "something" there. I don't know how, but I just knew that there was matter there that wasn't visible; I could "feel" it was there, but I couldn't "see" it.
I passed other worlds and I could see the different life-forms on it; beings that reminded me of elves were living in trees, only when you looked upon their home, you instantly knew if they were good in spirit or not; something that's still weird & confusing to me, because here on Earth, that would be ridiculous to even think of.
I traveled over an arc of colors likening it to a rainbow. I know, this all sound crazy! Trust me, I kept all of this to myself when I became conscious again bc it sounded so silly. However, I knew in my heart none of it was a dream. I knew what a dream was like, and this was more real than anything I'd known.
After I passed the planets, I remember seeing a bright golden-white light approximately the size of a porthole window in size. I could see my Daddy's eyes looking out of it towards me as I traveled closer towards it.
Because of so much of my memory being foggy, now, I can only tell about the next part. I was standing in a place filled with different layers of light spiraling around like you would picture a ribbon as it sways in the wind. There with me was a woman and I knew her as my guide for this place. She was going to take me around and reconnect me with everything there. It was as if I was in a train station-type atmoshpere by the feelings of traveling with others. The feeling I had of peace, love, & oneness was euphoric. It's so hard to try and explain how much more concentrated the feeling of love is. If comparing the love we feel here on Earth to all of the sand on an endless beach, then the love we have here would be but a single grain and the love there would be the entire beach. That's probably a horrible comparison, but the best I can come up with. It really is indescribable.
While traveling with my guide, we were floating down one of the "ribbons" of light and I could actually hear these orbs of light traveling alongside of us talking. This was suprising to me! She explained that they, too, were souls traveling the same way as we were. I know that she took me into a place with beautiful pearl-like buildings all around, but this part of my trip has been locked up, as best as I can describe it. I remember seeing this beautiful place, but the details of it are being witheld from my memory. I do have some account of one of the places and it was building that held miracles. Everything from prayers to body parts. This was confusing to me when I was remembering it all. Body parts? But I don't want to leave out anything.
I have no memory of descending back into my body. I awoke in the recovery room and was told that during my biopsy, by lungs had collapsed down and had to be placed on a ventillator. I slowly recovered after being sent to another hospital an 2 hours away that had more conventional types of treatment.
I began researching about all of these memories I had going on inside of my brain. I would pull up other people's accounts on their near-death experiences and found similarities in every one of them.
The biggest shockers was when I found one that talked about crossing a bridge that was a rainbow and ppl who've seen other lifeforms like I did. WoW! These strange things I had experienced had happened to other people, too. I've read countless stories on seeing the light in the tunnel and traveling thru the void, but to read about these two unique details really excited me.
I've been studying the topic of NDE's ever since. It's like a fire that's started in me and I just want to know more and more. I would love nothing more than to be able to go thru some type of hypnosis and try to unlock the other parts that are so important, but I don't see that happening, considering the costs involved.
In my opinion, I think those memories were shut off from me for a reason. You see, I became extremely depressed after I came home bc I longed to go back so badly. I wanted to feel that feeling of being pure love, again. I felt like I was literally a part of God, or whatever you like to call the All Knowing, All Being Source of Love. I would lay in bed at night and pray to God to let me come back, just for a minute. This feeling, once you've had it, is impossible to let go of. But I had to, and I think that when certain parts were gone from my memory, it helped me to let go and know I could wait until it was time, again.