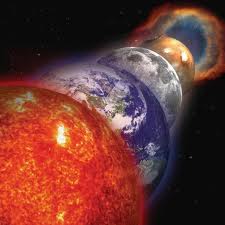 Given the fact that it has been in the media outlet and discussed to great extent, the Mayan prophecy(and others from the past) about the world coming to an end in December of this year, I can see why a great majority of people may be dreaming about the fear of this happening.
If you happen to go online and read up on apocalyptic-type dreams, you'll see countless stories of these nightmares. However, in my own personal story, I began having these types of dreams before I knew anything about the foretold doom hovering over our heads.
I only found out when I was talking to my husband about the fact that I wasn't getting sound sleep at night due to waking up from one of them. That's when my teenage daughter, sitting in earshot distance, told me about the prophecy.
I've dreamed of tornadoes,hurricanes,earthquakes,global flooding, and even giant sphere-like balls of rock and fire falling from the sky.
However, I am a believer in the Bible and when reading the scriptures, there's still many things to come to pass before this can happen.
So, what are these dreams all about? Do you think they're a warning for us to get our affairs in order?
I'm NOT saying that my own dreams are prophetic. It could be just a coincidence that I had them within the period of the debate on the end of time..that's quite possible. But I don't want to completely overlook them, either.
I believe we're given signs, as i have said before in previous posts. But I also know the human mind can be complicated in understanding why we dream what we do on a psychological level.
I'm leaving this blog posting open for discussion on other's experiences like my own and many others. If you've had a dream that you'd like to share, please leave us an account of it.
Love & Light to guide all your paths.