The Greatest Creator, Jesus and Satan
Last course from Lifechanyuan; Information from Xuefeng
Xuefeng calls himsellf the present messenger of the Greatest Creator, the reaper of Ripe Crops in the last days and the incarnation of Jesus Christ and Buddha Sakyamuni.
Contents
1. The Greatest Creator(Heavenly Father)
2. God in the Bible is not the Genuine Greatest Creator
3. LIFE-Levels in the universe
5. The Greatest Creator's Cares for Humans
7. The Symmetrical Structure of Universe-LIFE
8. Our Misunderstanding to Satan
9. The Duty of Jesus and Satan
10. God in the Old Testament of the Bible is Satan
3. LIFE-Levels in the Universe
In terms of the nonmaterial structure of the spiritual nature, LIFE can be divided into 16 levels.
The Greatest Creator is in the First level; it possesses perfect nonmaterial structure, and its psychic energy is able to penetrate all matters and space without any hindrance.
Gods is in the Second level; them possesses defective nonmaterial structure. And their psychic energy is able to penetrate all materials and most of the space, but can not enter into the Zero World (The Greatest Creator stays here) and can not compete with the Greatest Creator. Gods are the assistants of the Greatest Creator.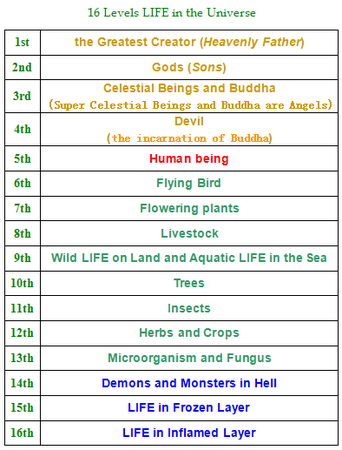 Celestial Beings and Buddha is in the Third level. All the Celestial Beings and Buddha are at the same level of LIFE, and only with the " racial" differences. Among which, Super Celestial and Buddha are so-called Angels. Angels are the assistants of Gods.
The Invitation from Lifechanyuan
The Kingdom of the Greatest Creator(God):
Home without Family and Marriage